The Department for Transport (DfT) has launched a survey of how organisations monitor and collect road condition data, which could lay the foundations for a programme of reform.
The circular was sent out this week in the wake of the Government's response to the Transport Select Committee's report into local road funding and governance.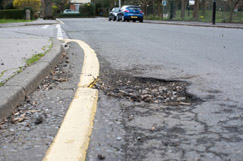 The DfT said it wanted input as to whether it 'should be allowing authorities to determine what technology they wish to deploy depending on their own needs and priorities and whether we should be collecting more highway asset infrastructure condition data'.
More than 30 questions are included in the survey, centred on how and where councils collect data and how data gathering might be reformed and expanded in the future.
Currently the surface condition of local 'A', 'B' and 'C' roads in England is measured using SCANNER (Surface Condition Assessment for the National Network of Roads) technology, adapted from the TRACS (TRAffic-speed Condition Survey) technology that is used to measure surface condition of Highways England managed roads. There is no requirement to monitor unclassified roads, which make up a significant proportion of the local network.
However, the DfT highlights that other technologies are starting to emerge, which can monitor and measure road condition. These include camera imaging systems connected to AI or machine learning software that can identify defects.
The DfT has announced it would undertake a review of what technology and data is required in the future. Officials suggested the system could move to a 'fence-to-fence' survey to include every asset in the roadscape. This survey is the first step of that review.
One issue that could arise as the DfT considers ways to branch out from the SCANNER survey is the balancing of concerns around the sheer variety of different data systems, while at the same time being wary of creating a monopoly supplier.
Chief executive of the Institute of Highway Engineers, Richard Hayes, said: 'It would seem practical for the data to be collected from local highway authorities to be similar in format so that comparison across authorities can be made. Condition surveys can be compared and capital allocations judged against each individual authorities' priorities, which will be very dependent on local circumstances.
'Some authorities are not collecting data on some of their assets, e.g. safety barriers or culverts and such a proposal will seek out any gaps in the data. I am always nervous when government seek to set up any national database we get an extra layer of bureaucracy and the purpose behind it gets lost.
'However I can see DfT funding this and the data or evidence will allow informed decisions to be made and may remove some of the political influence.'
The closing date to complete the survey is 23.59 on Monday 16th December 2019.