The Government has pledged to give councils the power to use CCTV to tackle parking in mandatory cycle lanes, as part of an action plan to improve road safety for cyclists and pedestrians.
The action plan includes around 50 proposals from the Department for Transport (DfT) following a cycling and walking safety review. There will also be a £100,000 investment to support the police to develop a national back office function to handle footage provided by the public including helmet cam and dash cam evidence.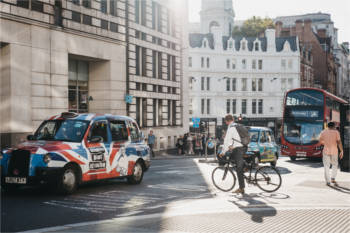 This builds on the success of Operation Snap – a successful programme first piloted by North Wales Police in 2016.
Allowing councils to use CCTV and ANPR equipment to tackle dangerous parking in cycling lanes is something of a reversal of parking reforms brought in by former Conservative communities secretary Eric Pickles - who only allowed CCTV to be used in certain circumstances for instance around schools.
Councils are also 'encouraged' to spend around 15% of their local transport infrastructure funding on walking and cycling. Although this appears to be just an aspiration rather than an ambition with incentives attached.
Cllr Martin Tett, LGA Transport spokesman, said: 'Councils continue to invest in cycling despite being hampered by funding cuts and will always look to introduce cycling provisions as part of new infrastructure when there is a clear need and demand. They will take into account a range of local factors when deciding how best to prioritise their limited infrastructure budgets and this must be a matter for local decision-making, and not for national government.
'Very little can currently be done to stop the minority of inconsiderate and dangerous drivers who block cycle lanes, pull up in cycle boxes at traffic lights and clog box junctions.
'Councils have long called for a suite of moving traffic offence enforcement powers to protect cyclists and motorists. These powers already exist in London and can be rolled out quickly across the country.'
Cycling and walking minister Jesse Norman said: 'We want to improve air quality, encourage healthy exercise, reduce obesity and boost our high streets and economic productivity.
'That means more support for cycling and walking, and that's why these new measures are designed to deliver.'
Insurers unsure
One aspect of the plan has dismissed already by a key stakeholder.
The DfT states that it will 'assess whether insurance companies could offer discounts to drivers and motorcyclists who have passed Bikeability training'.
Giving the announcement short shrift, a spokesperson for the Association of British Insurers said: 'We are unaware of this proposal. There have been no discussions between the ABI and the Government on any proposals around motor insurance premiums and its Bikeability scheme.
'Insurers support improved road safety, but in 2017 less than 0.1% of motor claims involved cyclists, so it is hard to see how this could have any meaningful impact on premiums.'
Highway up to Code
The Government has also confirmed a review of the Highway Code that will consider cycle and pedestrian friendly reforms.
'We will be conducting a review of The Highway Code focused on improving safety for cyclists and pedestrians.
'This may look, for example, at overtaking, passing distances, ways to emphasise cyclist and pedestrian priority at priority-junctions, opening vehicle doors (the so-called "Dutch Reach"), the hierarchy of road users, you and your bicycle, rules for pedestrians (rules 1 to 35), rules for cyclists (rules 59 to 82), and road users requiring extra care (rules 204 to 225). A review focusing only on cycling and walking elements could still take up to three years depending on how much research and consultation is required.'