The Government's latest road safety action plan has floated a number of possible measures to cut fatalities but makes very few firm commitments.
The most headline grabbing plan is the idea that new drivers could be banned from travelling at night under a Graduated Driving Licensing scheme.
Ministers said the move could 'help new drivers to stay safe and reduce the number of people killed or injured on our roads'.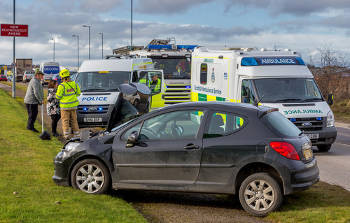 The DfT pledged to 'look further' at the benefits of Graduated Driving Licensing, under which post-test licence restrictions often include controls as to the time of day the restricted licence holder can drive unsupervised or restrictions on the passengers they can carry.
The Department for Transport (DfT) said its Road Safety Statement 2019, subtitled A Lifetime of Road Safety, would improve safety for people at every stage of life – from infants in car seats to those with years of driving experience.
Officials said increasing penalties for failing to wear a seatbelt was one of seventy-four measures 'being considered' and that the DfT was reviewing the recent report on seatbelt use from the Parliamentary Advisory Council for Transport Safety (PACTS).
Road safety minister Michael Ellis said: 'Far too many people are not wearing a seatbelt while traveling in a car, needlessly putting their lives at risk.
'Increasing penalties for people who disregard the simplest of way of protecting themselves is just one of a long list of actions this government is taking to help keep people safe on our roads.'
Transport secretary Chris Grayling said the Government is 'not complacent' over road safety.
However, the document puts a positive gloss on the lack of progress in recent years. It describes the 1,793 reported fatalities on the roads in 2017 as representing '39% fewer fatalities in 2017 compared with 2007'.
As Highways has reported, and as DfT officials have conceded, the trend in the number of fatalities has been broadly flat since 2010.
Other measures include:
For children: research into whether mobile phone use among young pedestrians leads to a increased risk of road collisions
For adults: the Government is also investigating whether alcolocks – devices which measure the alcohol in a driver's breath and stop a vehicle from starting if that level is too high – can reduce drink-driving re-offending as part of rehabilitation programmes.
For older drivers: RoadSafe has been given £50,000 to deliver a digital platform to share best practice to reduce road safety risks for older road users.
Last week the Government announced that a two-year review into roads policing and traffic enforcement will be launched later this year.