A London MP has urged mayor Sadiq Khan to ensure that 'much needed improvements' are carried out to a 50-year-old temporary flyover, despite Transport for London's (TfL) current cash crisis.
The Gallows Corner flyover in the London Borough of Havering was named in October 2018 by the then transport secretary, Chris Grayling, as one of the first schemes to be funded as part of the major road network (MRN).
Under the MRN, a scheme to replace it would be eligible for a government contribution of £20m-£50m. However, TfL has yet to submit a business case to the Department for Transport.
The flyover is one of a number of major asset renewals listed in TfL's Surface Transport Asset Renewals Programme, described as 'a programme of major renewals on high priority risks'.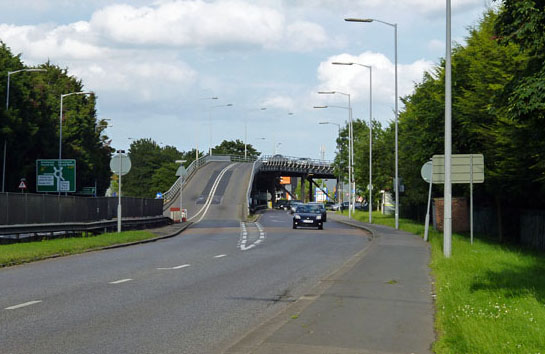 In a letter to Mr Khan, Romford MP Andrew Rosindell described Gallows Corner as 'one of the most dangerous junctions in the country' and suffering from 'severe congestion'.
Mr Rosindell's office said the letter was prompted by traffic chaos at the junction last week, with sewage works leading to gridlock. The MP said: 'For minor works to cause such problems is indicative of the desperate need to upgrade the flyover.'
He warned Mr Khan that 'abandoning vital infrastructure projects will only compound the economic damage already done by the pandemic' and urged him 'take personal charge of this issue by sorting out TfL finances and ensuring that the necessary upgrades to Gallows Corner can be completed'.
Mr Rosindell said: 'For too long the people of Havering have had to put up with the disaster that is Gallows Corner. I share the frustrations of those on social media wondering how and why this situation can continue, with a temporary flyover still in place after 50 years of existence.
'There was light at the end of the tunnel last year when Gallows Corner was shortlisted for upgrades, but for some reason that only the mayor can tell us, TfL failed to submit a proposal for government funding to improve the junction. Now because of the woeful mishandling of TfL's finances, there are reports it will be scrapped altogether.'
Nigel Hardy, TfL's head of healthy streets investment delivery planning, told Highways: 'The existing flyover structure at Gallows Corner has presented significant challenges, which means we've needed more time to assess all options for its replacement thoroughly.
'We're committed to finding the right solution for the area and will be submitting a business case and proposals to the DfT in the coming months.'
Photo © Robin Webster (cc-by-sa/2.0)