In one of his first interviews since the Budget, Highways England chief executive Jim O'Sullivan told Highways it was too late to find a new private finance model for the Stonehenge and Lower Thames Crossing schemes if they are to open on time.
The new comes after chancellor Philip Hammond used the Budget to announce the end of PFI deals, saying he would not sign anymore.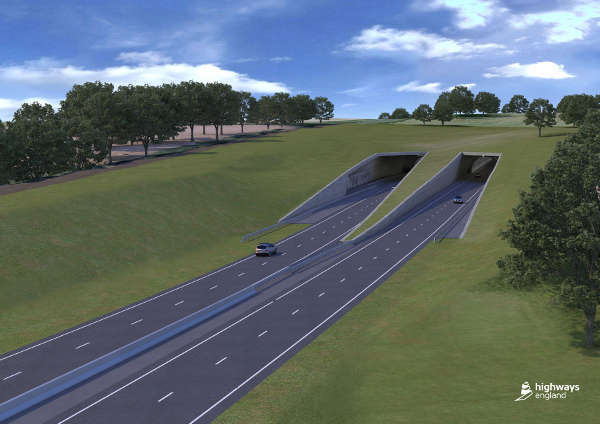 The Stonehenge tunnel (pictured) and the Lower Thames Crossing had been slated to make extensive use of PFI deals - with the A303 Stonehenge project using private finance for the entire scheme and the Lower Thames project using it just for the road sections.
'We were significantly down the road towards PFI,' Mr O'Sullivan said.
'In moving from a PFI to a traditional contracting model, which is almost certainly where we are headed, it creates time. Traditional contracting is quicker to do than PFI. PFI is a fairly complex financial instrument. Traditional contracting, well we already do it and we have an example the A14 - which is running very successfully. So we know that we have a mechanism for contracting that works.
'We are not in a bad place because it's a simpler mechanism. We have the time to switch from PFI to traditional contracting - whatever traditional contracting means.'
When asked by Highways if it meant that all the money will come from public finance and Highways England's own budget, Mr O'Sullivan confirmed that it would have to.
'Yes. There is no [other] way. PFI is complex. It will take a period of time to design a new type of public finance mechanism that satisfies the chancellor's requirements of value for money. We don't have that time if the A303 is to open by 2026 and the Lower Thames Crossing is being talked about being open by 2027.
'We are on a tight timescale to deliver on the existing PFI. To design a new PFI and deliver that would not allow us to make the original timescales. So you have to switch to public money in some way, shape or form.'