Shell Bitumen is set to secure a patent on a new technology that inhibits the ageing process, Highways can reveal.
Shell expects to start trials of the low ageing bitumen with customers in the UK and the Netherlands before the end of this year.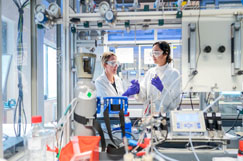 Professor John Read, general manager technology at Shell Bitumen, told Highways in an exclusive interview that the company was on the cusp of major breakthrough after years of research into the oxidisation process.
'We have just received the priority date for the patent for a low ageing bitumen. We are able to inhibit the oxygen uptake within the asphaltenes so we get a much longer life, before it gets to critical [stages] and then you can no longer use it as a material for recycling. We don't believe you can stop the oxidization process but we do believe you can slow it. The detail of that is in our patent.
'It is various pieces of chemistry that in combination with the bitumen inhibit oxygen uptake in the asphaltenes so you get preferential uptake of the oxygen somewhere else.'
Prof Read added that the company, which is celebrating 100 years of bitumen innovations, was dedicating an ever-increasing proportion of its R&D in bitumen to sustainability – lowering carbon or circularity.
'Perhaps five years ago 10% of our effort would have gone into those areas. Now it would be well in excess of 50%.'
He added that the sector needs to shift its focus from simple recycling of asphalt to upcycling.
'How do we take RAP (reclaimed asphalt pavement) and do something to it, in conjunction with virgin material, to create something better than the original product? So now we are starting to think: if you can take existing RAP and some virgin material and this low ageing bitumen, can you now upcycle this overall material to be better than it was in the past and last longer?'
'If you can't upcycle you should at least not have value leakage. Very often RAP, which was used in a surface course, is recycled in a base course, which is not the highest value use of the material.
'[Also] A terrible, terrible waste and example of value leakage is when people have paid for polymer modified bitumen (PMB) that is recycled as just conventional bitumen in base courses or self-binding bases. So all the value of that additive is lost. We have developed a set of materials called Cariphalte RC ( RC for recycling). These are special materials that allow you to recycle PMB material back into PMB material so you don't lose all the value of the additive.'
You can read the full interview in the August/September issue of Highways.