FM Conway proved the efficiency of its in-house asphalt delivery on a recent resurfacing of the M2 motorway in Kent - making short work of laying 5,575m2 with both binder course and surface course, and a further 19,660m2 of surface course only.
This equates to 450 tonnes of binder course materials and 2,250 tonnes of surface course.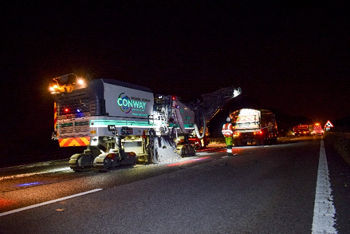 The work involved planing out the existing surfacing material to a depth of 50mm and replacing it with a 50mm of asphalt surface course, while in other sections it was planed to 100mm and replaced with 50mm of new binder course and thin surfacing.
The company was brought in by Highways England's asset support contractor A-one+ to resurface both carriageways of the M2 between junctions 5 and 6 near Sittingbourne.
Work on the coastbound carriageway was carried out during four night-time closures; the London-bound work was done during a full weekend closure of the motorway between 12 and 15 July.
FM Conway carried out all the planing and surfacing with its own equipment and operatives, supplied all the material from its asphalt plant in Erith, and delivered it using the company's own haulage fleet, which also took the recovered planings to an FM Conway aggregate depot for recycling.
A total of 53 lorries were used to get materials in and out of the site.
Nick Burman, business development director at FM Conway, said: 'The trucks were on a continuous loop – either coming back to the site for planings or going to the asphalt plant to pick up material to bring back to the site. It was a very efficient way of working.'
Work on the London-bound carriageway was done while the motorway was closed for an entire weekend to enable A-One+ to carry out other essential maintenance and improvement work.
As a result, FM Conway was able to use two planing machines in echelon to plane off the old surfacing. The closure started late on the Friday night, and all the planing was finished by 8am on the Saturday morning.
FM Conway also laid the sections of new binder course that Friday night, and started laying surface course on the Saturday morning, finishing all the work at 8pm on the Saturday night.
Paul Padfield, surfacing director at FM Conway, said: 'What we achieved in 22 hours would probably have taken five nights of individual overnight closures. A full weekend closure definitely gives efficiencies from an operational point of view.
'Continual working also means there are fewer day joints, resulting in better ride quality, and there are environmental benefits as a result of more efficient use of resources and reduced material wastage. You are also minimising hazardous activities – such as the installation and removal of traffic management – by a factor of five.'
Sean Coleman, Area 4 construction manager at A-one+ described FM Conway's work as best practice 'seamless delivery'.