A working aggregates quarry has been transformed into a new wetland haven for wildlife thanks to Aggregate Industries, which bought to rights in 2003, and Yorkshire Wildlife Trust (YWT).
The Ripon City Wetlands lies between the Ripon Canal and the River Ure and was opened to the public in May.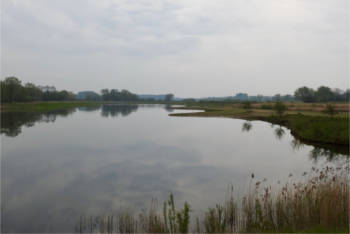 Leases from the landowners - Ripon Race Company and Peter Rogers Farms - will be given to YWT for 50 years.
The site is now managed by YWT, which developed a detailed plan to design and create the wildlife haven, supported by Aggregate Industries and Middlemarch Environmental.
The mosaic of habitats at Ripon City Wetlands includes canal reedbeds specifically designed for feeding bitterns (secretive birds who are members of the heron family), and the strip of fen meadow that runs along its edge was made by spreading green hay and hand-collected seeds from Yorkshire Wildlife Trust's nearby Staveley Nature Reserve.
It is hoped a wide variety of wildflowers and plants will flourish in the wetlands and create the perfect environment for a variety of insects.
Guy Edwards, chief executive officer at Aggregate Industries, said: 'We are delighted that our quarry has been turned into such a significant place for wildlife. Sustainability and biodiversity are of the utmost importance to Aggregate Industries, and within that comes the beneficial restoration of sites to benefit the local community and the environment.
'We not only worked closely with Dr Phil Fermor of Middlemarch Environmental and the Trust to initially create the reserve; we are also committed to maintaining its success through providing funding to help manage the site over the next 50 years.'
Jonathan Leadley, north regional manager for YWT, said: 'This wonderful new wetland adds to a suite of existing nature reserves along the River Ure corridor, including Nosterfield and High Batts. Yorkshire Wildlife Trust supports the creation of "Living Landscapes" - wildlife habitats that are bigger, better-managed and more joined-up – and collectively, these nature reserves are the perfect embodiment of that aim.'
He told Highways: 'The gravel pits are below the water table so have filled from groundwater. There are a number of seepages from the gravel beds around that kept water in the wetlands even in the drought of last summer. Also, floodwater from the Ure inundates the site at times of high flow. Ripon City Quarry has become nature reserve, a leisure sailing lake and farmland.'