Transport Focus has published what it says is 'the most significant and robust picture ever' of driver satisfaction on the strategic road network (SRN).
The transport watchdog's new Strategic Roads User Survey (SRUS) found that 82% of road users were satisfied with their last journey using a motorway or major A road managed by Highways England.
Satisfaction with journey time was also 82%, with road surface quality slightly lower at 79%. The proportion of those satisfied with the management of roadworks was lower still at 65%.
A number of issues scored higher than the figure for overall satisfaction. The proportion of drivers satisfied with how safe they feel on the SRN was 93%. Satisfaction with information on permanent road signs was at 89%. Information provided on electronic signage scored 83%.
Transport Focus chief executive Anthony Smith said: 'This new survey provides a detailed picture at regional and individual road level about the experience of all drivers, whether in cars, vans, lorries or coaches – as well as motorcyclists. It makes it possible for those who manage specific roads to find out what users think on a range of key issues and identify where they need to prioritise improvements.'
Mr Smith added that every year the SRUS will gather insight from interviews with more than 8,000 road users across the SRN.
Results will be displayed on a new digital platform – Transport Focus Data Hub – providing data about customer satisfaction at individual road, regional and national level that 'anyone from a fleet manager to a leisure driver can access and explore using comparison tools that are easy to use'.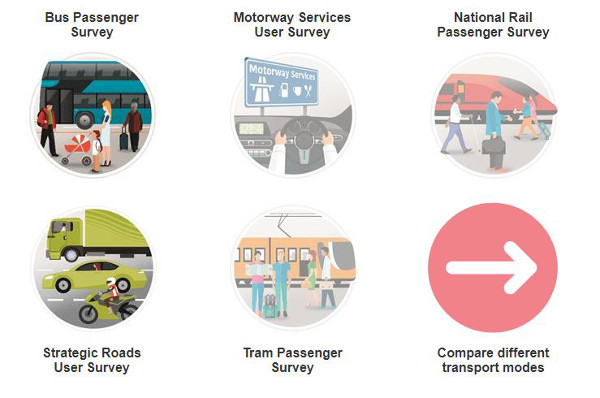 Transport Focus said its Data Hub currently provides access to data from the first five months of the SRUS and to data collected for its annual Bus Passenger Survey since 2014.
It added that it anticipates that data sets from its other surveys (rail passengers, motorway service users and tram passengers) will be added during 2019 and that in time the hub will support the comparison of satisfaction data for 'one, some, or all modes of transport'.
Which Highways England regions have the highest satisfaction rating among road users ?
Overall: SW and NE
Highest satisfaction with journey time: SW and NE
Highest satisfaction with road surface quality: NE and M25 region
Highest road works management: NE and SW
Highest satisfaction with feeling safe: East and NE
Road level figures (for roads with sufficient responses after five months of the survey operating)
Highest overall satisfaction with journey: M5 and A1 (lowest M1)
Highest satisfaction with journey time: A1 and M5 (lowest M6)
Highest satisfaction with surface quality: A1 (lowest M6)
Highest feeling of safety: M5 (lowest M25)