Highways England is set to fall even further behind on a key safety benchmark by the end of next year with the risk of potentially fatal head-on collisions increasing.
Three in five journeys on Highways England's single carriageways are forecast to be below the three star road safety benchmark under the EuroRAP/iRAP rating system for the safety of road infrastructure.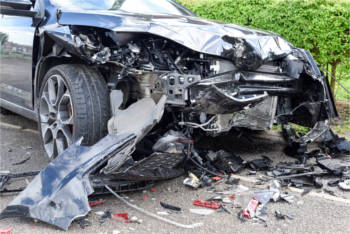 This is an increase in the proportion of people travelling on the low rated routes between 2015 and 2020, despite the government-owned company having a target to improve these areas. The result is a forecast increase in head-on collisions, Highways England said.
The disclosure comes in a long-awaited publication from Highways England setting out its progress in improving the star rating of the strategic road network (SRN). However, the government-owned company has said there may be additional safety benefits that have not been captured yet, which might improve the picture.
As revealed exclusively by Highways, the government-owned company has suggested that it is unlikely to meet a safety target to improve the majority of roads that fall below three stars.
Highways England's 2015-20 delivery plan states: 'We will ensure that by the end of 2020 more than 90% of travel on the strategic road network is on roads with a safety rating of EuroRAP3* (or equivalent). We will also ensure that the majority of those roads with 1* and 2* safety rating have improved to 3*.'
As Highways has reported, nearly 63% (by length) of single carriageway strategic roads were rated below three stars a 2015 baseline survey.
Highways England's Strategic Road Network Star Rating Report does not disclose how much of its network in terms of road or length is expected to be below three stars but it concede that: 'The percentage of travel on single carriageways which are rated 3-star or above is expected to fall slightly between 2015 and 2020 due to the increased risk of head-on crashes resulting from increased projected travel levels.'
The document reveals that the percentage of travel (measured by vehicle miles) on single carriageway roads falling below this benchmark is expected to increase from 59.6% in 2015 to 60.1%.
The baseline survey carried out in 2015, the year that Highways England came into existence, showed that 95% of travel was already on roads rated three star or above, reflecting the fact that most travel takes place on motorways and dual carriageways, which are inherently safer.
The new document states: 'The percentage of traffic on our network travelling on roads that is forecast to be rated 3-star or above in 2020 is expected to increase only slightly between 2015 and 2020.'
It predicts that the combined figure for travel on three and four star roads will increase just one tenth of one percentage point five years on, from 94.8% to 94.9%, with the percentage of travel on one and two star roads falling from 5.2% to 5.1%.
The document does state that projections suggest there will be a shift upwards in the star ratings above the 3-star threshold: the percentage of travel which is on 4-star roads is expected to go up from 56.1% to 59.6% and the percentage on 3-star roads is expected to fall from 38.7% to 35.3%.
It also points out that its forecast for 2020 is based on the programme of major projects which will be completed by March of that year and that 'these estimates 'are, by their nature, conservative as they do not reflect the impacts or include the result of designated funds targeting single carriageways, the safety and congestion fund, and other improvements and enhancements which cannot be accurately represented and forecast within the model given the nature of improvements'.
Highways England has told Highways that it plans to resurvey its entire network next year, which will give it an accurate picture of the progress it has made.
Before publication of the report, its head of Road Safety, Richard Leonard, told Highways: 'We do think we will have improved [single carriageway roads] through the work we've done and we'll know that in 2020 when we resurvey. But single carriageways are difficult. Those roads are tricky to treat.'