Galliford Try has written off a further £26m from the delayed Aberdeen bypass and signalled that its losses on the project could be higher.
In its half-year report for the six months ended 31 December 2018, the firm said its estimated final costs to complete the recently completed Aberdeen Western Peripheral Route (AWPR) contract have increased 'as a result of higher than anticipated direct costs, and further delay to completion'.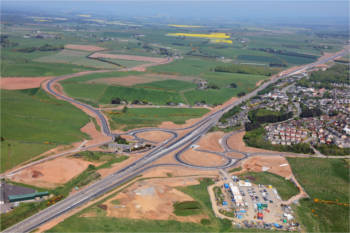 The increase is estimated at £26m and has been recorded in the firm's financial statements as an exceptional item.
The firm stated that with 'constructive dialogue with the client on the significant claims in respect of the contract' continuing, its provisioning for the loss on this project reflects its current estimate of final costs, 'and is reduced by an estimate of our share of significant claims against the client and others, which are yet to be agreed and concluded'.
In recognition that this implies that the loss could therefore worsen, the firm added: 'This inherent uncertainty will be resolved only when the project is complete and the claims finally settled.'
The firm's overall revenue was £1.418m, down from £1.495 in the equivalent half year the previous year, with pre-tax profit down from £81.3 to £84.2m. Its construction business achieved revenue of £718.4m, down from £823.6m. However, net debt fell from £85m to £40m in a year when other large firms have struggled with their debt.
Chief executive Peter Truscott said: 'Galliford Try has delivered a strong financial and operational performance in the first half, with further progress against our 2021 strategy. The Group is well capitalised and average net debt is below previous guidance, driven by focused working capital management over the period.
'We were delighted to achieve completion of the AWPR with final handover in progress, successfully delivering a vital and major piece of infrastructure to the local community.'
The firm said in a statement: 'We are seeing projects deferred as a result of macro uncertainty, but with 96% of revenue secured for the current financial year and 66% secured for the following year the business has confidence in its prospects.'
It said the performance of its construction business 'continues to be encouraging, particularly on newer contracts, reflecting the business's careful approach to project selection and risk management,' adding: 'We continue to prioritise the quality of each opportunity over volume.'
In September 2017 Mr Truscott said the firm would in future avoid large, fixed-price infrastructure projects after losses on large construction schemes, including the AWPR.