The Lower Thames Crossing is estimated to add over five million tonnes of CO2 to the UK's carbon emissions, official documents show.
Highways England has released its Carbon and Energy Plan for the tunnel from Kent to Essex following a freedom of information request.
It states: 'The carbon emissions resulting from the construction and operation of the Project are estimated to be 5,272,562 tonnes of carbon dioxide equivalent (tCO2e).'
This breaks down as around two million tonnes during the construction phase and 3.2 million tonnes during the operational phase, for the first 60 years after opening.
The route for the crossing is approximately 23km long, of which 4.25km is in a tunnel below the river.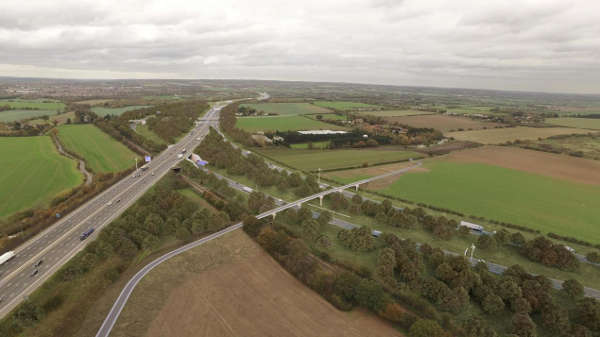 The information was obtained by campaign group Transport Action Network.
Director Chris Todd told Highways: 'Carbon emissions from new roads are substantial and real. If the Government is serious about tackling climate change, it can't keep dismissing these emissions as insignificant. And it can't keep pretending that getting everyone into an electric vehicle will happen quickly enough to avoid making some difficult decisions.
'While we welcome greater ambition from the PM on the international stage, it's very easy to make announcements: the harder part is delivering on them. Right now the Government's roads policy is driving us in the wrong direction and that needs to change. Not just on climate grounds but for a whole host of other socio-economic and environmental reasons as well.'
Highways England said that in developing its plans it had cut the amount of carbon expected from construction by roughly a third, 'by optimising the design, refining how we plan to build the road and what materials we would use' and that it would expect its delivery partners to go further.
A spokesperson said: 'The Lower Thames Crossing will add billions to the national, regional and local economies by almost doubling road capacity between Kent and Essex and reducing congestion and delays.
'But it will also impact on the environment and minimising this impact is a key priority for us. We have taken a balanced approach - our proposed design includes the UK's longest road tunnel as it offers the best possible local environmental benefits, however tunnels by their nature require large volumes of concrete with a high carbon footprint.'
The spokesperson said Highways England expects the 'real levels' to be much lower as it forecast does not take into account the Government's plans to reduce carbon from transport, such as the ban on sales of new petrol and diesel cars by 2030 and the increasingly rapid growth in electric car ownership.
Last month Highways England withdrew its planning application for the crossing after the Planning Inspectorate said it was set to reject it.