Ministers have announced a 'review' that will pave the way for transforming the way people and goods move around our cities, alongside £90m to 'test ideas' to improve journeys.
The Department for Transport (DfT) has announced its Future of mobility: urban strategy, which includes what it described as 'the biggest review into transport in a generation'.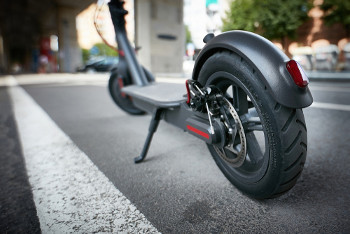 Officials said the review will explore 'regulations around new types of vehicles including e-scooters and e-cargo bike trailers, how sharing data can improve services by reducing congestion, and how journey planning and payment can be made more simple'.
It will also 'explore modernising laws from the 1800s that are providing a barrier to innovation' - in terms of private hire vehicles, with further regulatory reviews in other areas including micromobility.
The DfT is already reviewing regulations in zero emission vehicles, self-driving vehicles, drones and future flight and maritime autonomy.
Future mobility zones
The Government is also launching a competition for up to four new 'future mobility zones', backed by £90m, to test ideas to improve journeys.
Ideas to be considered in the competition will include smoother payment systems, better, more up-to-date travel information and the use of innovative forms of transport, officials said.
Future of mobility minister Jesse Norman said: 'We are at a potentially pivotal moment for the future of transport, with revolutionary technologies creating huge opportunities for cleaner, cheaper, safer and more reliable journeys.
'Through this strategy the Government aims to take advantage of these innovations; connecting more people and bringing big benefits we hope for both the economy and the environment.'
RAC head of roads policy Nicholas Lyes warned that 'much needs to be thought through before electric scooters can be allowed to use UK roads legally'.
He said: 'We know drivers who regularly have to deal with congestion in urban areas are often open to alternative forms of transport, so any move to review regulations to make this simpler and encourage take-up should be welcomed.
'Ultimately though, the aim of any review of transport laws should be about how to provide safe, reliable, convenient and cost-effective options while also keeping our roads moving for those who still require their vehicles.'
Principles and reviews
The strategy sets out nine key principles that will guide government decision-making 'going forward', while the regulatory review will have four new areas of focus:
Micromobility vehicles, and how to trial them
Mobility as a Service
Transport data
Modernising bus, taxis and private hire vehicles legislation
The nine principles in the strategy are:
New modes of transport and new mobility services must be safe and secure by design.
The benefits of innovation in mobility must be available to all parts of the UK and all segments of society.
Walking, cycling and active travel must remain the best options for short urban journeys.
Mass transit must remain fundamental to an efficient transport system.
New mobility services must lead the transition to zero emissions.
Mobility innovation must help to reduce congestion through more efficient use of limited road space, for example through sharing rides, increasing occupancy or consolidating freight. 7 The marketplace for mobility must be open to stimulate innovation and give the best deal to consumers.
New mobility services must be designed to operate as part of an integrated transport system combining public, private and multiple modes for transport users.
Data from new mobility services must be shared where appropriate to improve choice and the operation of the transport system.
It has also published its response to the Last Mile call for evidence, outlining a range of measures to support cleaner and more sustainable last mile deliveries. These include increasing the uptake of e-cargo bikes and e-vans.
Competition winners
The DfT has also announced the first winners of the Transforming Cities Fund with £60m awarded to 10 city regions for schemes supporting low-carbon vehicles, cycling and walking projects, and smart traffic controls.
The DfT has also now worked out how £2m to support the uptake of e-cargo bikes, announced in the Autumn, will be distributed and is inviting expressions of interest.