The Department for Transport (DfT) has revealed which councils will receive a share of the latest £93m round of Local Highways Maintenance Challenge Fund cash.
It highlighted two schemes in the North East of England that will benefit, despite the fact that the region is receiving less cash than the regional average.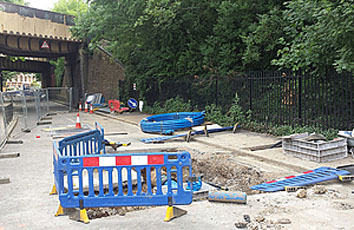 Officials said the cash was the 'latest push by government to level up connectivity', part of a recurring theme in official announcements.
In fact the Challenge Fund is a longstanding funding stream, which was first announced in the 2014 Autumn Statement. Last year the DfT said that in 2019 to 2020 the funding available would be £98m.
A total of 32 local authorities have now been awarded a share of £93.4m to repair roads and bridges under Tranche 2 of the Challenge Fund, which enables local highway authorities in England (excluding London) to bid for major maintenance projects that are otherwise difficult to fund through the usual formula funding allocations they receive from government.
The DfT said that 'communities around the country are set to benefit from a £93 million boost to connectivity, ensuring England's roads are fit for the 21st century', adding: 'This includes over £4m for crucial repairs to the New Elvet Bridge in Durham along with £3.7m to help refurbish several steel bridges around Northumberland.'
These are two of only three schemes in the North East to receive a total of £9.4m under the Challenge Fund.
This is slightly below the £11.7m average for the English regions, with some receiving significantly more. The West Midlands will receive a total of £17m – nearly twice as much – for six schemes.
Roads Minister Baroness Vere said: 'There is nothing more frustrating than a journey delayed by poor road conditions, and this multi-million pound boost will help improve connectivity across the country.' The full list of successful schemes is on the DfT website.
The Government also announced a further £900,000 of Transport-Technology Research Innovation Grants (T-TRIG) funding for 'scientists, innovators, academics and tech-focused start-ups to research new ways to future proof the UK's roads'.
Baroness Vere said: 'This investment will harness our world-leading research and innovation capabilities to future proof the next generation of journeys.'
One of the projects to receive funding for tech projects will see the development of a new AI-powered app to detect potholes in real-time, using mobile phone sensors to measure when cyclists ride over or swerve to avoid them.
It is hoped the app will help local authorities to quickly identify when potholes are forming and take quicker action to fill them.
Another project known as Shape-Pot will create 3D pothole models to create a fully autonomous repair platform capable of automatic, uniform repairs.
Paolo Paoletti, senior lecturer at the University of Liverpool said: 'The Shape-Pot project has the potential to change the way roads and their defects are managed, promoting a data-driven approach to management and improving efficiency - making roads safer and more accessible.
'Thanks to the T-TRIG funding, the team will create a proof-of-principle autonomous robotic platform to characterise road surface, a first step toward autonomous maintenance of roads.'