The Government has taken out a further injunction to target protesters causing disruption on any of the motorways and major A roads in and around London.
However, the protests by climate change activist group Insulate Britain showed no signs of stopping as they entered a fourth week and blocked the Blackwall Tunnel this morning (4 October).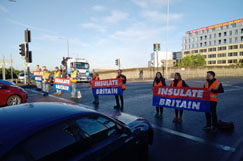 The group said that a fresh protest this morning had blocked four major routes into London - Blackwall Tunnel, Hanger Lane, Arnos Grove and Wandsworth Bridge - once again to demand government action on home insulation.
This is thought to be the eleventh time that Insulate Britain has caused disruption on motorways and A roads over the past few weeks - previously the group focussed mainly on the M25 with additional protests on the M1, M4 and at the Port of Dover.
The protestors said the actions 'will continue until the Government makes a meaningful statement indicating that they will insulate all of Britain's 29 million homes by 2030, which are among the oldest and leakiest in Europe'.
The latest injunction
The new injunction from the strategic road network operator and government-owned company National Highways bans activities that obstruct traffic as well as activities that cause damage to the road surface and infrastructure - prohibiting activists from glueing themselves to the road or abandoning vehicles.
Those found to break the injunction would be in contempt of court and face imprisonment or an unlimited fine. They may also be forced to repay the costs of their case.
On top of this, National Highways was also granted a court order to enable police to release the names and addresses of activists to assist the service of papers by High Court Officers.
Transport secretary Grant Shapps said: 'We will continue to do all we can to prevent this self-defeating, disruptive and incredibly dangerous behaviour being carried out by Insulate Britain. They are putting lives in danger and damaging their own cause. Today, we're ensuring every major road and motorway linked to the M25 is covered by this injunction to help prevent further disruption.
'Activists are being tracked down and served court papers and will now face justice. We will take the strongest action against anyone else who decides to take part in this ridiculous and irresponsible action.'
National Highways has already taken out two injunctions to prevent action along the M25, as well as major roads around the Port of Dover, following protests from Insulate Britain.
Department for Transport (DfT) officials said these injunctions were 'a short-term solution to tackle the highly disruptive protests we have seen over the last few weeks, and the Government has committed to legislating to prevent these kinds of guerrilla tactics in the long-term through the Police, Crime, Sentencing and Courts Bill'.
National Highways regional director Nicola Bell said: 'This new injunction covering the strategic road network in and around London is another step forward in helping to keep these reckless and dangerous protests away from our network and endangering peoples' lives.
'We continue to serve court papers on those who have breached the previous injunctions, and repeat offenders will soon be receiving a court summons. People who breach the injunctions face imprisonment or an unlimited fine.'
Insulate Britain 'more scared of climate change than prison'
Insulate Britain spokesperson Tracey, a full-time mother from Milton Keynes said: 'We're more scared of what will happen when the climate crisis causes the breakdown of law and order, than we are of injunctions and prison. The government is focussing on us rather than what's coming down the road. They need to face up to reality.
'If our government really wants to do something for hard-working families it should act decisively to insulate Britain's homes. It will help people with rising energy bills, prevent 8,500 fuel poverty deaths this winter and cut carbon emissions in the most cost-effective way possible. Come on Boris: get on with the job.'
A number of activists have already been served with court papers the DfT said.