Three groundworks companies could each face fines running to millions of pounds after a provisional Competition and Markets Authority (CMA) finding over involvement in a cartel.
The parent company of Groundforce, which supplies groundworks products to the construction industry, alone has set aside £4.5m to pay a possible fine for taking part.
In April, the CMA provisionally found that three businesses – M.G.F. (Trench Construction Systems) Ltd (MGF), Vp plc and Mabey Hire Ltd (Mabey) – formed a cartel to reduce competition and keep prices up.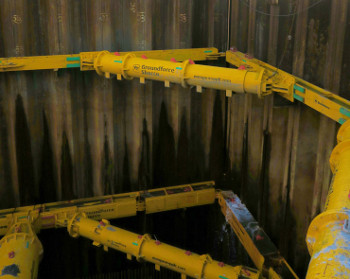 On Tuesday (4 June) Vp plc, which owns Groundforce, said it had included a figure of £4.5m in its accounts as an exceptional cost.
The firm noted that the CMA's findings remain provisional and do not necessarily lead to a decision that the companies have breached competition law and that at this point in the process 'we cannot make an accurate estimate of the likely cost that may subsequently arise in the event that the CMA were to decide in the future that a breach of competition law has taken place'.
It stated that accounting standard IAS 37 requires it to provide an amount in its accounts and accordingly we have. It said the figure it had used 'is in the arithmetic midpoint of a range of possible outcome (£0 to £9.0 million) that we have calculated based upon previous cases and CMA published guidance and without any admission of culpability'.
The firm said that it is in the process of reviewing these alleged breaches and expects to be in a position to respond to the CMA shortly, adding: 'In the meantime, we will continue to co-operate fully with their investigation.'
Groundworks products (including braces, props and sheeting) are used to protect excavations – such as those made for foundations or for laying pipes – from collapse and are important for keeping construction sites safe.
The CMA said the three companies supply these products for a range of major housing and road developments, railway line works and water pipe upgrades.