The Law Commissions of England and Wales, and of Scotland, have said Britain is one step closer to self-driving passenger vehicles as they published a consultation paper on the issue. Chris Ames gets aboard the debate.
The consultation is part of a three-year project in which the two law commissions are reviewing driving legislation to prepare for the introduction of self-driving vehicles on UK roads. Whereas an earlier consultation paper considered safety assurance together with civil and criminal liability, the new paper focuses on how automated trips might be supplied to the public in vehicles that can travel empty or only with passengers and no driver or user-in-charge.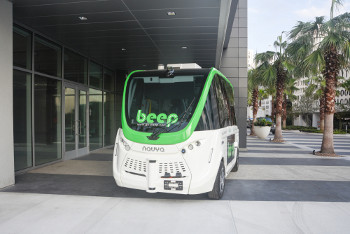 The commissions refer to these as Highly Automated Road Passenger Services (HARPS), explaining: 'We have coined the term HARPS to encapsulate the idea of a new service.'
Caroline S Drummond, commissioner at the Scottish Law Commission, says: 'Our aim is to ensure these new self-driving cars are safe and can help to meet the objectives set by local and central Government.'
Rather than the five common levels of driving automation, the commissions propose a threefold classification: assisted driving, where the user remains in charge throughout; high automation with a user in charge; and high automation without a user in charge (albeit possibly with remote supervision) and able to travel empty. HARPS fall within the highest level.
Dr Wolfgang Schuster, technical director of transportation UK and Europe at Atkins, agrees. He tells Highways: 'We know that there is a challenge here around when you don't know what your responsibility is then of course that has safety complications. 'So simplifying that model is a good way forward because it will make it very clear that you are in one of three categories which has very well defined responsibilities associated with it.'
The paper points out that where passengers have no legal responsibility for the vehicle, the paradigm changes. It argues that HARPS vehicles need to not just be safe by design, but safe by operation, with the latter being its main focus.
Designing a new system
It then poses the question: 'What should a regulatory system for HARPS be designed to achieve?' before explaining how, to identify the opportunities and risks posed by HARPS, 'we set out two competing visions'.
It states: 'The positive vision shows how HARPS could help achieve these objectives. The negative vision looks at the risk they could make things worse.'
These two visions are a recurring theme in discussions of self-driving vehicles and of Mobility as a Service (MaaS), the door-to-door transportation concept in which self-driving vehicles are predicted to play a significant role.
This brings the commissions to an in-depth discussion of the policy issues that precede the legal ones. On the plus side, the paper argues that self-driving vehicles carrying passengers have the potential to create significant societal benefits by reducing the necessity to own a car.
It points out that once people own (and have usually paid for) a car, they tend to use it, even when alternatives are available, partly because the marginal costs are relatively small. And although taxis are one alternative, 'they can be costly, with 40% to 50% of operating costs spent on drivers'.
The benefits of HARPS could include:
Reduced congestion: HARPS will reduce congestion if rides are shared or they encourage people to use mass transit;
Reduced car parking: with HARPS vehicles able to be used more intensively, space currently ceded to parking could be used in other ways including more cycling lanes and healthier streets;
Affordable and flexible bus services: employment costs of drivers currently comprise around 40% of running costs of buses. With reduced costs, public subsidies could be used to provide more services and it would become more economic to run smaller bus services at more frequent intervals;
Increased accessibility for older people and disabled people: HARPS could provide accessible services that are more affordable than current alternatives;
Improved safety: through sensors, data sharing, safer driving behaviour and faster-than-human reaction times;
Environmental benefits: automated vehicles would be able to drive in more efficient and environmentally friendly ways, while their safer driving style may also make people feel more comfortable to walk and cycle;
Reclaimed time: the average driver spends an estimated 236 hours behind the wheel each year.
Dr Shuster tells Highways he believes the biggest positive impact could be on older people and others with mobility difficulties, but also cites the city planning benefits of a reduced need for parking.
For the commissions, the 'potential challenges that may arise from the introduction of these vehicles if effective regulation is not in place' include:
Safety concerns: while automated vehicles have the potential to be safer than human drivers, public trust could be undermined by even a few high-profile collisions;
Inhibiting traffic flow: HARPS vehicles might freeze when confronted with unexpected weather conditions or unknown obstacles (including, possibly, leaves or plastic bags);
Reduced accessibility: many older or disabled persons who currently rely on taxis or private hire vehicles also rely on their drivers to assist them by, for example, helping them into the vehicle or accompanying them to and from their door;
Congestion: large numbers of new vehicles will be placed onto urban roads before private car use has reduced, worsening congestion;
Rural areas: such areas could benefit enormously from HARPS, but narrow and often unmarked rural roads present many challenges;
Employment: there are concerns that HARPS could have a negative impact on jobs. The paper states that the issue is outside of the commissions' terms of reference.
The solutions
The paper suggests what might be done to address most of these challenges and asks a series of questions to examine the types of changes that may be required to regulate HARPS.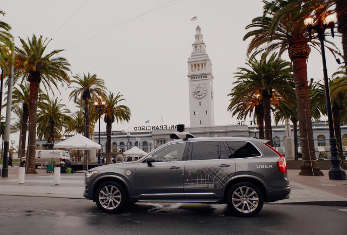 On the issue of controlling congestion, traffic regulation orders are put forward as a possible approach, before moving on to the potentially controversial suggestion that parking charges for HARPS could be reduced and the equally thorny issue of road pricing, perhaps backed by a specific statutory scheme.
Dr Shuster says: 'First of all, we need to look very carefully at the commercial models, because there is a tight interlink between the operational model and the commercial models.
'The ideal scenario would be that at any point in time, if there is enough demand, these vehicles will serve a purpose; they won't just be cruising for the sake of cruising, but if this vehicle drives me from A to B and hopefully I'm going to share that journey with someone else, when I arrive there it will have already received its next demand to bring someone from C to D.'
Another question raised by the paper is how HARPS should be integrated with public transport. It also asks whether HARPS should be subject to a new, single, national system of operator licensing. The paper suggests that it should, with a HARPS operator defined as 'any business which carries passengers for hire or reward using highly automated vehicles on a road without the services of a human driver or user-in-charge'.
It then asks what obligations should fall on HARPS operators, for example relating to maintenance, remote supervision and the reporting of accidents.
In the paper this category is distinguished from private ownership, including leasing, asking who these obligations should fall on when a passenger-only vehicle is privately owned, but also how consumers can be protected from the unexpectedly high ongoing costs of such a complex vehicle.
Overall, Dr Shuster feels the upsides of HARPS far outweigh the potential downsides, most of which he says 'can be eliminated through putting in place appropriate commercial models, regulatory infrastructure and so on'.