HOCHTIEF has announced plans to move into the UK highways operations and maintenance (O&M) market.
Under the HOCHTIEF PPP Solutions (UK) label, the company aims to invest in the market after its research suggested clients would welcome a new entrant.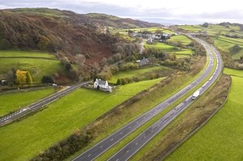 Setting out its stall as a company that can drive innovation and increase sustainability, the infrastructure giant has a history going back roughly 150 years and a global reach.
It also has a 20% stake in the world's leading international toll road operator Abertis.
One UK highways industry insider said the announcement would create 'a lot of chatter and a lot of interest'.
HOCHTIEF PPP Solutions (UK) Ltd managing director Ian Prescott said 'The highways O&M market represents a great opportunity for HOCHTIEF PPP Solutions and we're keen to demonstrate to potential clients how our core strengths as a major infrastructure delivery partner will help to achieve local outcomes on climate change, social value, innovation and economic value.
'We plan to draw on the wealth of experience including our exemplary health and safety credentials from across the HOCHTIEF PPP Solutions Group that will act as a strong differentiator to the market.'
As it launched its pitch to the UK market, the company also announced it is looking for a highways operations development manager, who will play a pivotal role in establishing the company's UK operations and will report to HOCHTIEF's senior management team.