New images released by Highways England give a bird's eye view of the new 'half hamburger' roundabout starting to emerge at the A45/A6 Chowns Mill roundabout in Northamptonshire.
The works aim to tackle congestion at the junction.
The government-owned company said the new aerial pictures make clear the progress being made on the improvements a year since work started.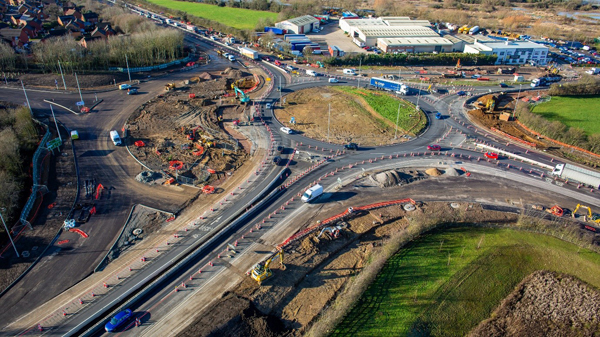 Highways England is spending £24m to increase capacity at Chowns Mill, which experiences severe congestion due to the amount of traffic on the A45 and A6, as well as local traffic accessing Higham Ferrers and Rushden.
The works will see the junction redesigned in the half hamburger layout including a new link road connecting the A6 South and A5028 with the existing roundabout. All approaching roads will also be widened to provide extra lanes.
Project manager Dean Holloway said: 'Despite the challenges of the last year we have pushed ahead with work on these much-needed improvements. We know how important this scheme is for drivers, businesses and the local communities who have been enduring the severe congestion problems at the roundabout.
'The new layout will mean smoother, safer and more reliable journeys for drivers and we will build on the progress already made to deliver these improvements as soon as we can.'
Highways England said single and narrow lanes have been introduced during the work to keep roads open where possible.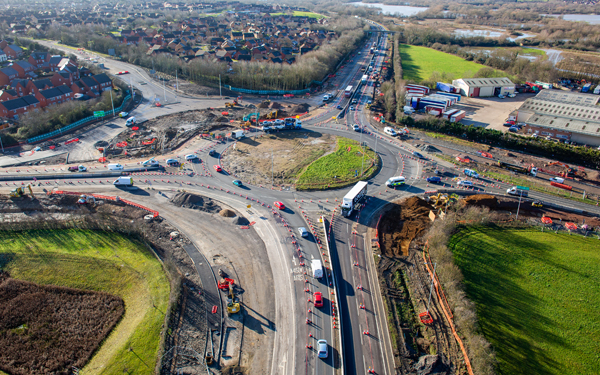 However, the roundabout will be closed to traffic for two consecutive weekends for resurfacing works, from 8pm Friday 19 February until 5am Monday 22 February. It will also be closed the following weekend from 8pm on Friday 26 February until 5am Monday 1 March.
Highways England said this was to ensure the safety of works and that by taking advantage of the lower traffic levels due to lockdown restrictions, the work can be carried out swiftly, rather than having a series of road closures over several weekends or nights.