Transport minister Baroness Vere has revealed that Hammersmith Bridge will not be 'fully open' to motorised vehicles until 2027, after decades of corrosion went unchecked.
The bridge remains in 'immediate danger of collapse' according to experts and has been closed since 13 August to all motor traffic, cyclists and pedestrians.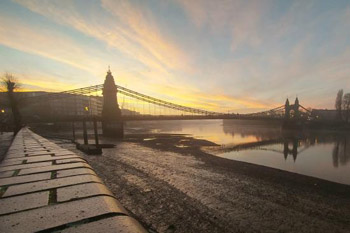 At an online meeting with the Hammersmith Bridge Taskforce, hosted by Baroness Vere, last week residents were told that the repairs would take another six years at least but that a Transport for London (TfL) ferry service could be in operation by next spring.
At the meeting, Hammersmith and Fulham Council representatives said that engineering inspections had found decades of unchecked corrosion.
The bridge is owned by the council, which is in negotiations with the Government over payments for the repairs.
Bridge maintenance had historically been funded by TfL, which prioritised funding to local boroughs for bridgeworks via Local Implementation Plan funding. However, due to TfL's financial situation this is no longer available.
The council has set out phases for the repair project, with costings of £46m for the emergency stabilisation works to allow pedestrians, cyclists and river traffic, rising to £141m for the longer-term plans to reopen the bridge to cars and buses.
TfL has committed to setting aside cash under its emergency funding arrangements with Government to support the urgent delivery of the ferry service across the Thames. It will also put £4m in for the repairs.
Transport secretary Grant Shapps has suggested previously that the Government would provide funding. However, the council heavily suggested it had received no such commitment.
Cllr Stephen Cowan, leader of the London Borough of Hammersmith & Fulham, wrote to Baroness Vere on 28 October stating:'The Prime Minister told Parliament that Hammersmith Bridge would be reopening. This has followed a similar pattern of public messaging, that has included the Secretary of State for Transport, which has sought to give the public the impression the government has "provided the money... to repair the bridge".
'As you know, the Taskforce hasn't been allowed to discuss funding in any detail and only touched upon the funding issue three weeks ago when we began to discuss a press statement that claimed, "significant progress".'
Hammersmith and Fulham Council members complained that the borough has made applications to the Department for Transport and the local government department MHCLG as part of 'shovel ready projects' that required funding but was turned down.
Temporary footbridge plans have also been discussed, and there could be limited walking and cycling access allowed across the bridge before full restoration, depending on the success of any works.
A temporary road bridge plan was dismissed by TfL, Cllr Cowan said
At an earlier meeting of the taskforce on 15 October, chair Dana Skelley, said: 'In addition to the temporary ferry service, the group also discussed alternative options for a temporary footbridge across the river. These would be dependent on further feasibility studies and technical approvals, but there may be a more easily-constructed temporary footbridge than has previously been proposed.'