Two councils in Hertfordshire are set to bring in a charging Clean Air Zone (CAZ) to tackle pollution on a major A road.
Under the plan for a Class D CAZ, drivers of non-compliant vehicles would be charged £10 per day to enter the zone, with an exemption for local residents and others.
At a meeting last week, Hertfordshire County Council's Highways and Environment Cabinet Panel agreed to set up a joint 'Members Engagement Group' to co-ordinate the plans with the Borough of Broxbourne, which has public health responsibilities for the area.
A report to the panel explained that under a Ministerial Directive from central government, the two authorities were required to bring air pollution on the southern section of the A1 at Broxbourne within legal limits in the shortest possible time
The report added that although a number of options had been identified, the Government's Joint Air Quality Unit (JAQU) 'have recently advised that they consider the implementation of a Clean Air Zone to be the only realistic option'.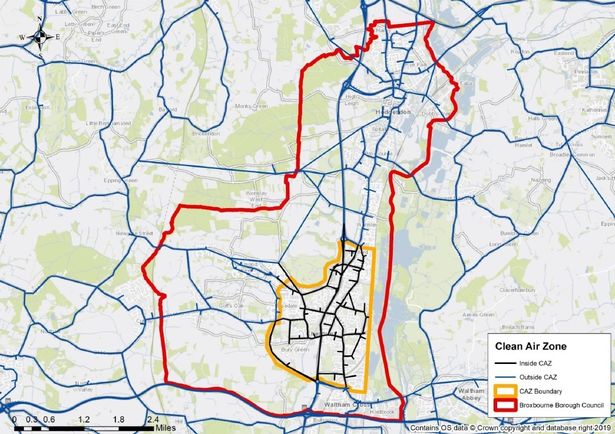 The A10 runs north/south through Broxbourne from the M25 to the A414 and both A roads experience congestion, particularly when there is congestion on the motorway.
The stretch through Broxbourne is currently the subject of a bid for funding under the Government's Major Road Network scheme. A spokesperson for Hertfordshire CC told Highways that the bid includes highway junction improvements, better public transport and improvements to walking and cycling, which the spokesperson said will aid air quality within the area.
The report explains that Broxbourne is legally required to undertake actions to address breaches of the EU air quality directive in the shortest time possible while Hertfordshire's legal obligation 'is as a result of being highway authority and therefore it has a legal requirement to work proactively with [Broxbourne] to address the air quality exceedance'.
A feasibility study last year concluded that the pollution was far worse than originally modelled – 76 µg/m3 for nitrogen dioxide compared to the legal limit of 40 µg/m3 – and that that compliance with the limit would not be achieved before 2028 without intervention.
A more detailed study will now be carried out into the effectiveness, costs and impacts of the options for the CAZ, leading to an outline business case by the end of October and a public consultation followed by a full business case. If approved the scheme would be implemented in 2022.
Hear Highways Magazine editor Dominic Browne discuss the plans on Three Counties Radio (listen from 1:06:54).