There is just one week to go before entries close for the prestigious Highways Awards.
Now in its 19th year, the event is bigger than ever as it returns this autumn to a new London venue.
Taking place on 19 October 2022 at Park Plaza Westminster Bridge London, this is your chance to be recognised on the national stage in front of the great and good.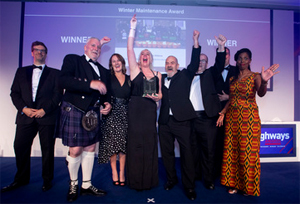 To win the respect of our expert panel of judges is to win the respect of our entire sector and be celebrated by your peers as being one of the companies, projects and people having the biggest impact on our industry, going above and beyond to keep the UK moving.
The deadline for entries is 8 July. Be sure to submit yours in good time.
Below are some top tips when entering:
Enter all relevant categories: With 16 awards categories be sure to submit entries for as many as possible
Help the judges: Support your submissions with a strong evidence base and references where possible
Highlight the impact: Add some context by highlighting the successful outcomes
Write with clarity: Try to be as concise as possible; consider using bullet points to make your key points easier to digest
Upload supporting material: This includes pictures, documentation – anything to support the accuracy of your entry
We look forward to receiving your entries and reviewing them with our expert judging panel.
Useful Links