Highways England is due to start work on Monday evening (2 March) towards reopen another lane travelling out of Nottingham on Clifton Bridge, although a full re-opening remains some way off.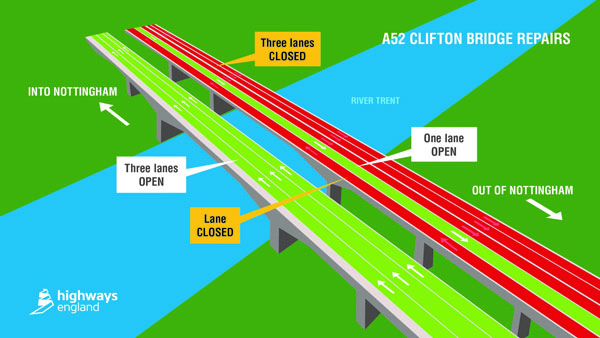 At present, drivers leaving the city are only able to use one lane over the bridge (graphic above). The route is part of the city's ring road and the part closure has caused severe congestion.
Last month, the government-owned company said it had been discovered during planned maintenance works that water damage had corroded some of the steel works underneath the road (pictured).
At that time it closed the eastbound carriageway, which carries traffic out of the city centre, while it investigated the damage.
Highways England then said the bridge was unlikely to fully reopen for the rest of the year. It said that following detailed inspections and survey work a programme of repair work was being drawn up 'which is likely to see limited lanes running in the eastbound direction for the remainder of this year'.
From Monday evening, there will be two weeks of overnight closures of the bridge while detailed alterations to the existing traffic layouts on the A52 can be made (below).
Highways England said it needs to switch traffic to another part of the structure while work continues underneath the road 'to prevent any further damage to the bridge and to keep repair teams safe'.
Head of service delivery Adrian Oulds said: 'We know the past few weeks have been really difficult for those travelling around Nottingham and I am grateful for people's continued patience.
'We have been working closely with the council since our repair work started and I am grateful for their assistance in helping us to plan diversion routes while we do this vital work ahead of reopening another lane on Clifton Bridge.
'Before we can open the second lane, we need to reconfigure the approach routes and road layouts to the bridge as we're creating a bespoke lane on the bridge which usually takes traffic into Nottingham. So essentially, we must do this work so that traffic doesn't travel towards each other on the bridge itself.'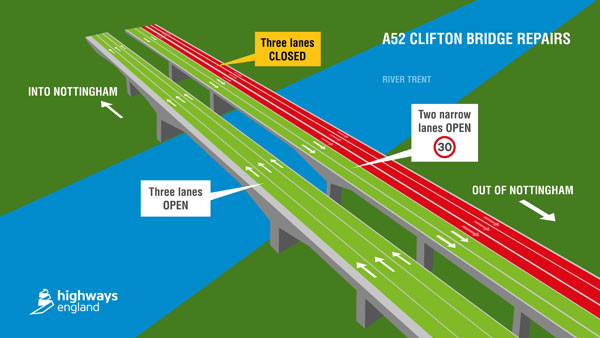 Nottingham City Council's portfolio holder for transport, Cllr Adele Williams, said: 'I welcome the fact that another lane over Clifton Bridge will be open in two weeks, and that Highways England are carrying out the work at night to minimise disruption.
'We recognise that there will continue to be an impact on traffic flows around the city and we will carrying on looking with Highways England for ways to further alleviate the disruption for local families, workers and businesses.'
Highways England has stressed the difficulty its engineers had in assessing the damage, working in hollow 'boxes' underneath the road. It said that with limited light and access points and with the heat and humidity a factor during the work, 'it is more akin to working in a deep mine'.