Highways England has published an 'ambitious' new decarbonisation plan that it said will see it 'rapidly' cut carbon from road construction, maintenance and operations, and support the transition to zero emission vehicles.
The government-owned company said that from today it will take immediate and sustained action towards decarbonising its network.
It said the plan supports the Government's transport decarbonisation strategy and sets out a comprehensive roadmap to rapidly decarbonise the strategic road network (SRN), 'building on its work reducing carbon since 2015.'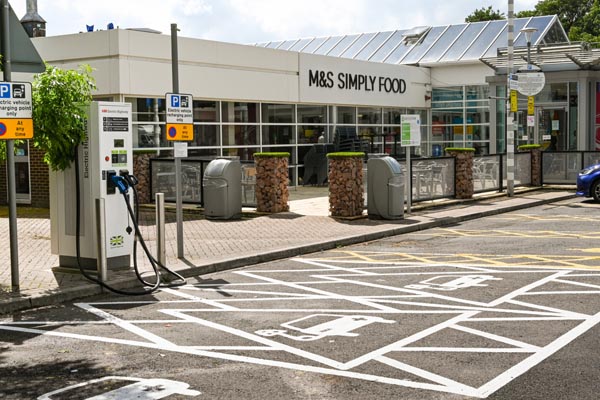 The plan includes three key commitments; achieving net zero for Highways England's own operations by 2030, delivering net zero road maintenance and construction by 2040; and supporting net zero carbon travel on the SRN by 2050.
Contractors and suppliers will also be required to act, 'including commitments to reduce carbon year-on-year by using the latest technologies', so that by 2040 maintenance and construction on the SRN are near zero emissions.
Highways England said it has been 'progressing towards net zero for some time', citing the introduction of plug-in hybrid vehicles to its fleet, installing more effective LED lighting on the M62, utilising recycling and solar power for resurfacing on the A590, and launching electric vehicle trials with local councils.
Acting chief executive Nick Harris said: 'Highways England recognises the threat of climate change and the risks it poses for us all. That's why we're pledging to take effective action to take carbon out of roads.
'Today roads are a convenient, efficient and low-cost way to travel, which is why nine out of 10 passenger miles and 79% of all freight moves on roads. Our plans set out how emissions from our own operations, our construction and our customers will reduce over the coming years.
'It will put roads at the heart of the low carbon economy, while preserving the convenience and economic benefit of an efficient road network.'
Civil Engineering Contractors Association chief executive Alasdair Reisner said: 'As an industry we must recognise what good looks like, understand where it's going and always challenge our thinking, in order to deliver sustainable infrastructure for the long term.'
Highways England said it has made a Greening Government Commitment to reduce its own carbon emissions by 75% compared with the 2017/18 baseline
It said its commitment to be net-zero for its own carbon emissions includes switching to LED lighting, changing its vehicle fleet to electric and planting up to three million additional trees.
In relation to the commitment that all vehicles on the SRN will be net-zero by 2050, Highways England said it is taking action in Road Period 2 (2020-2025):
to provide charging infrastructure on its network and create a blueprint of on-road services for electric vehicles
to train traffic officers to meet the needs of electric vehicles in incident recovery
to support modal shift and integration of modes
to act as an expert advisor and assessor for Government trials of emerging zero-carbon HGV technologies.
Further detail in the plan includes:
100% electric car fleet by 2030
Replace 70% of all lighting with LED by 2027
An extra three million trees planted by 2030
First net-zero road enhancement scheme by 2030
Develop a zero carbon 2040 roadmap for cement, concrete and asphalt by June 2022
Make digital roads an integral part of Road Period 2, and build this into Road Period 3 strategy and beyond from 2023
By 2023, publish a blueprint showing how EV charging services should be provided on motorways and major A-roads.
By the end of 2022, Highways England will report to Government on its proposed approach to zero carbon HGV trials on its roads