With the publication of a government review into smart motorways 'imminent', Highways England is facing costs running into many millions to retrofit new safety measures - even on schemes currently being built.
Based on previous comments from transport secretary Grant Shapps, it is likely the so-called smart motorways 'stocktake' will lead to new safety measures such as more frequent emergency refuge areas (ERA) and stopped vehicle detection.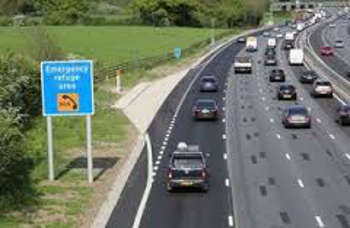 However, schemes currently under construction do not meet these expected new criteria.
Mr Shapps has said that he favours a maximum distance of approximately a mile between ERAs on all lane running (ALR) smart motorway schemes - where the hard shoulder is permanently converted into a live traffic lane - rather than a maximum of a mile and a half at present.
Highways England has previously pledged to introduce this standard from March 2020 on all new schemes.
It confirmed that schemes in construction, including one on the M20 due to open in March and one on the M23 near Gatwick, are being built to the existing standard of one and a half miles between ERAs.
Last week transport secretary Grant Shapps told MPs that no new smart motorways will be opened until he had the 'outcome' of the ongoing 'stocktake' of smart motorways, which he announced in October last year and is now significantly overdue.
However, this has not stopped the construction of the projects. Highways England has confirmed that the construction work is continuing on new ALR schemes, without any reform of the ERA specifications.
A spokesperson told Highways: 'We look forward to the imminent publication of the DfT's stocktake and stand ready to implement its recommendations.'
Highways England has similarly pledged to install SVD on all new ALR schemes from 2020 and to retrofit it on existing schemes, albeit without a timetable.
Speaking the House of Commons fellow Conservative MP Tracey Crouch suggested to Mr Shapps the new ALR section on the M20 should not open until improved safety measures such as more frequent ERAs and SVD were put in place.
Mr Shapps declined to confirm whether this would be the case and referred again to the ongoing stocktake.
A Highways England spokesperson told Highways that the stocktake is set to establish the respective costs of changing these schemes to the one-mile spacing, either before they open or subsequently.
In either case, the costs are likely to run into many millions of pounds, including the additional costs of traffic management while the changes are made.