Two 70ft crash barrier lorries originally designed to protect against roadside bombs are being used for the first time in Europe on Highways England work sites in the West Midlands.
Highways England said the 16-tonne mobile barriers are among the latest innovations demonstrating its commitment to investing in new technology to improve safety and minimise disruption caused by roadworks and incidents.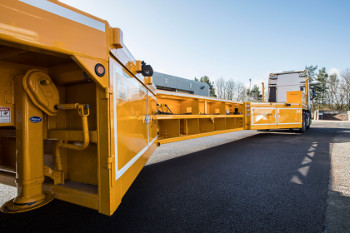 In collaboration with Kier, the mobile barriers have been brought over from the USA and launched in the West Midlands, protecting drivers and workers at work sites and cutting delays by reducing the number of cones needed.
If struck from the side, the barriers absorb the impact from a moving vehicle while a lorry-mounted crash cushion gives further protection at the rear.
Martin Bolt, corporate group leader at Highways England, said: 'The mobile barriers, which are being used for the first time in Europe, are an innovative way of looking at how we can increase protection for road workers.'
Dave Wright, executive director for Kier Highways, said: 'As a company we're committed to working with our partners to ensure we continuously develop technology that improves safety on the road for both road workers and users. We're hugely passionate about this, and our improvements team is constantly looking at ways to innovate and pioneer new products that go towards this aim.
'Our main priority is to make sure everyone gets home safely at the end of the day and we look forward to expanding mobile barrier across our other UK contracts.'
Another innovation that Highways England has put to use in the region are four new Solar CCTV Systems.
Designed and built for Highways England, the mobile CCTV systems offer visibility at sites where a permanent camera is not necessary, such as during roadworks.
They can be easily deployed to provide surveillance and feed information about traffic flows to the control room. Action such as deploying traffic officers or lowering speed limits can then be taken.
One of the systems is in use at Junction 6 of the M42, near Birmingham Airport, where Highways England says people were previously frustrated by congestion and delays.
Organisations can now access the information from this camera and plan their journeys and business accordingly, the company said.
You can read more about Highways England's approach to innovation in the May issue of Highways magazine, now online.