Association for Project Management (APM) is working with the major projects profession team at Highways England to help develop a new framework that will give early professional recognition and membership of the APM.
Highways England is introducing two new certificates for emerging project professionals, which will align with APM's frameworks and standards as the chartered body for the project profession.
It has defined these as Foundation Project Professional and Practising Project Professional.
These certificates are effectively the stepping stones to provide a clear 'line-of-sight' from the beginning of their careers, through to chartered status if they choose to pursue it.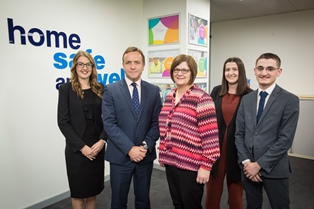 Peter Mumford (second from left), major projects executive director at Highways England, said: 'We want to attract the best new talent and enable our project professionals to reach their full potential – and that's why we're working with APM. Developing recognised project professionals through independent assessment will give our people the support they need to build their experience and meet their career ambitions.
'Not only will it endorse the progress they are making, but it will provide us with the governance, organisation and controls to deliver our schemes effectively and assure our customers that we're delivering safely and making the most from every pound we invest.
'With that in mind, I'm going to lead by example and have set myself the target of achieving APM certification this year!"
APM chief executive Debbie Dore (centre of picture) said: 'Raising the profile of project professionals and the roles they play is pushing the industry forward and encouraging innovation across delivery.
'By mapping its career paths to the professional qualifications and chartership offered by APM, Highways England will give its employees a great opportunity to develop their career aligned to professionally recognised standards.'
The Foundation Project Professional certificate is awarded for supporting project delivery and embedding learning from the APM Project Fundamentals Qualification (APM PFQ). To achieve this, evidence is submitted against six APM competencies - covering technical and behavioural disciplines at level 2 of the APM competence rating scale.
The more challenging Project Professional certificate is awarded for taking ownership of delivery tasks within a project team by providing evidence against eight APM competencies covering technical and behavioural skills across level 2 and 3 of the APM competence rating scale, with 12 months of continued professional development activity.
Highways England has made the commitment to award Associate Membership of APM with the practising professional award, giving staff access to additional APM professional development resources and networks.
Owen Adams (right of picture), an apprentice project manager at Highways England, said: 'This news gives me real confidence that I made the right decision to join Highways England as a project management apprentice. I know where I want to get to and I can build my pathway there, right up to chartered.'