Highways England has used its Engagement Council to support the sector through the coronavirus crisis and reassured the supply chain that it is accelerating payments.
In the latest of his regular updates, Malcolm Dare, executive director of commercial and procurement at Highways England, discussed the Engagement Council's work on COVID-19.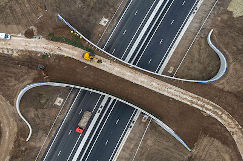 'The call was well received and we are looking to hold another call in the next 2 – 4 weeks. This will most likely be the week after Easter so that we can provide a more focused update on business activities in relation to C-19. Regular weekly e-mails will continue in between but I am keen to provide a forum where suppliers can ask questions etc,' he said.
With central government urging all public sector clients to pay suppliers immediately, Mr Dare also reassured the supply chain of Highways England's commitment to swift payment and support.
He wrote: 'We are continuing to accelerate supplier payments for work completed and correctly invoiced. We currently pay 74% of invoices within five working days from the receipt of the invoice for all suppliers and we are looking to improve this further, especially for SME's.
'We are also ensuring that we have increased cash reserves available to support further accelerated payments. I would also like to remind suppliers that we operate the Project Bank Account approach for construction based activities down to Tier 3 levels.'
He added that he also hoped the sector would engage with Highways England to suggest 'opportunities to accelerate work in the Operations and Major Project areas in order to support the supply base'.
Correction: This article was amended after it originally suggested the Engagement Council was set up in response to COVID-19. This is not the case. It is a long-standing forum which forms part of Highway England's strategic engagement with the supply chain.