Highways England is still sending much-criticised warning letters to drivers who illegally drive under red X signs on smart motorways, six months after a change in the law allowed camera evidence to be used for prosecutions.
Highways has learned that some police forces have begun to prosecute but the situation varies between areas and it is currently unclear how many cases have been brought and what stage they have reached.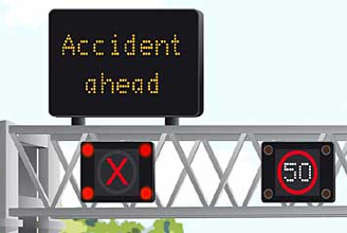 Highways England said four years ago that it would seek a change in the law to crack down on the dangerous practice of drivers using lanes closed by a red X symbol on an overhead gantry.
The signs are used when there is an obstruction such as a crash or breakdown in a live traffic lane and are crucial to the debate on the safety of smart motorways.
In the absence of an effective method of prosecution Highways England has been relying on warning letters to drivers, which have no legal effect, a situation that has been widely criticised.
In June, after both a change in the legislation and Home Office type approval for the relevant equipment, it became possible to prosecute drivers based on camera evidence.
Highways England said at the time that the new powers will be used in late summer 'after a period of testing'.
In September it said that cameras would 'soon' be used to detect people driving in lanes that have been closed with a red X.
In a Parliamentary debate on the safety of smart motorways last week, transport minister George Freeman told MPs that he was unhappy with Highways England's reliance on sending thousands of letters.
'That number must come down. The aim should be to ensure that nobody drives in the wrong lane at the wrong time, rather than to issue letters to warn them. We need faster progress on that,' he said.
Mr Freeman added: 'We have brought in legislation to allow automated detection of red X offences using camera equipment and to enable the police to prosecute.'
A Highways England spokesperson told Highways: 'Since the police began using cameras as part of the enforcement of Red X signals we have been phasing out warning letters.'
The spokesperson said that 'the discontinuation of warning letters, is happening as part of a phased national roll-out programme' but gave no details as to which areas are now using the technology for prosecutions or why some police forces are not doing so.
Highways England has repeatedly declined to confirm whether any prosecutions have been brought and declined to clarify whether it had any information on the issue.
A spokesperson said: 'Highways England is not responsible for the enforcement of traffic legislation. Any questions around enforcement and prosecution must be directed to the relevant police force for each area.'
Jack Cousens, head of roads policy for the AA, criticised the lack of a coherent approach to prosecutions.
He told Highways: 'Driving in a lane with a red X above it is incredibly dangerous and could have fatal consequences.
'Highways England have already sent more than 180,000 warning letters to drivers who have done so, but if the cameras were turned on and fines issued more people would take notice.'
He added: 'Prosecutions by camera for this offence should have been resolved long before these motorways were opened.'
Despite Mr Freeman's comments, it is unclear whether the Department for Transport is monitoring the use of camera technology for prosecutions. It referred Highways' enquiry about prosecutions to Highways England.
Both the Home Office and the National Police Chiefs' Council told Highways that they do not currently have statistics on this type of prosecution.