The number of people killed on Highways England's road network is now above the trajectory needed to achieve a 40% cut by 2020, having risen for four consecutive years between 2014 and 2018.
The total estimated cost of these fatalities was nearly £428m in one year alone, significantly higher than Highways England's dedicated spending on road safety projects between 2015 and 2020. Its combined Cycling, Safety & Integration fund was worth £175m over five years.
New statistics in Highways England's annual summary of casualties on the strategic road network (SRN) show that in 2018 the number of people killed and seriously injured (KSI) rose across all types of road.
The data in the document is 'unadjusted', meaning that the number of people recorded as having been seriously injured is likely to have been inflated by recent changes in police reporting methods.
A Highways England spokesperson said this was because adjusted data provided by the Office for National Statistics is not available in the detail required for all areas covered in the report.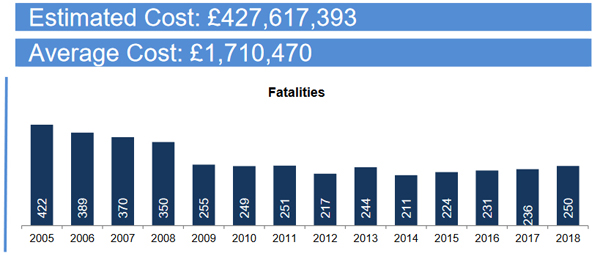 Naturally, these changes do not affect fatality statistics. The new document confirms that 250 people were killed on the SRN in 2018, up from 211 in 2014 and representing the highest total since 2011 (251).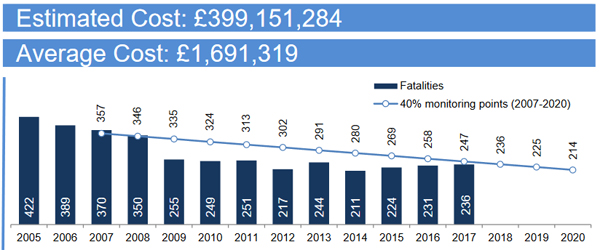 Last year's document, which covered 2017, included a bar chart with a line showing the trajectory that annual fatalities would have to follow (or fall below) to achieve a 40% reduction against a baseline figure (357) by 2020 (pictured directly above).
This reflects Highways England's key performance indicator of a 40% cut in KSIs against the 2005-2009 baseline by 2020.
In the latest document, the line showing this trajectory has been removed. However, the previous version gives the required figure for 2018 as 236, meaning that the number of fatalities in 2018 rose above the required trajectory for the first time since 2008, having been significantly below it prior to the creation of Highways England in 2015.
Highways England has removed other comparison information from the latest version of what is a long-established format. The spokesperson told Highways that this is because the numbers in the report are relatively small so that small changes can result in a large percentage change.
The document also shows that of the 250 fatalities in 2018, 85 occurred on motorways, which was down from 91 the previous year. However, the number of fatalities on both types of A roads rose.
In 2018, there were 102 fatalities on dual carriageway A roads (up from 87 in 2017) and 63 fatalities on single carriageway A roads (up from 58).
As Highways has reported, Highways England is likely to miss its target of improving a proportion of its roads with a low safety rating under the iRAP star rating system, most of which are single carriageway roads.
2018 figures

The total (unadjusted) number of KSIs on both types of A road also rose in 2018, as well as on motorways.
In 2018, there were 426 KSIs on single carriageway A roads, up from 415 in 2017, and 754 KSIs on dual carriageways, up from 686. There were 807 KSIs on English motorways in 2018, up from 752 in 2017.
2017 figures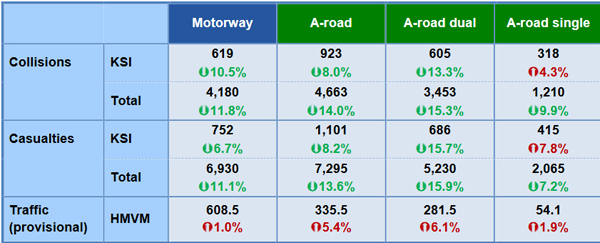 Therefore, as Highways has previously reported, the total unadjusted KSI figure of 1,987 KSIs in 2018 was also an increase on 2017 figures.
A Highways England spokesperson told Highways: 'Our thoughts are with all those who have lost a loved one in a road collision and we are always striving to improve road safety.

'Although our roads remain among the safest in the world, by understanding the details behind each incident we can better develop and deliver the measures necessary to continually improve the safety of our network. The findings set out in our report help us to do that.'