Highways England has made 'significant changes' to its plans for the Lower Thames Crossing to minimise its impact on local communities and the environment.
The government-owned company will launch a new consultation on its updated plans next week.
Following a previous consultation on earlier proposals, transport secretary Chris Grayling announced the preferred route in April 2017.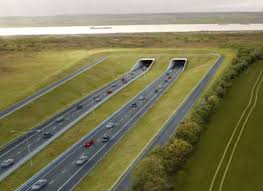 Highways England said it is now seeking views on an updated, more detailed design 'which aims to maximise the project's huge benefits in creating a new route between Essex and Kent, relieving pressure on the existing Dartford Crossing and adding extra resilience to the road network'.
It said the new plans 'also include significant changes to minimise the impact on local communities and the environment'.
Tim Jones, project director for the crossing, said: 'A new Lower Thames Crossing is a once in a generation opportunity for people in Kent, Thurrock and Essex, significantly improving journeys, connecting communities and boosting the economy.
'This consultation is an important opportunity for people to share their views on our proposals and help shape the Lower Thames Crossing. I am looking forward to hearing what people think.'
There will be 25 public information events are being help across Kent, Thurrock and Essex, as well as 30 visits to local communities.
Highways England said specialists will be on hand at each event to explain the proposed route, how it would be built and operated, and how it plans to minimise the impact on the local environment and community.
All information, including an updated, fly-through video, will also be available online.
The 10-week consultation will start on Wednesday 10 October and run until Thursday 20 December.