There can be few greater challenges for a barrier system than a rally car track, requiring a product that is easy to assemble and transport, not to mention one that can stand up to high speed crashes. Highway Care took the barriers podium on the notoriously difficult Wales Rally GB.
To give some comparison between the glitzy pampered world of Formula One and the World Rally Championship, you need look no further than the recent Wales Rally GB.
In Formula One, a single stone can wreak havoc with a driver's day. On the Wales course this autumn one driver didn't stop despite having an advertising banner wrapped around half his car.
Described as one of the most demanding events in motor sports let alone world rally, the event involves notoriously difficult Welsh forest sections and rallies that can take place at night, in the rain and with fog.
Joining the intrepid drivers and navigators this year was Highway Care's BG800 barrier, which looked likely to also be in for a rough ride, judging by the speeds and braking angles.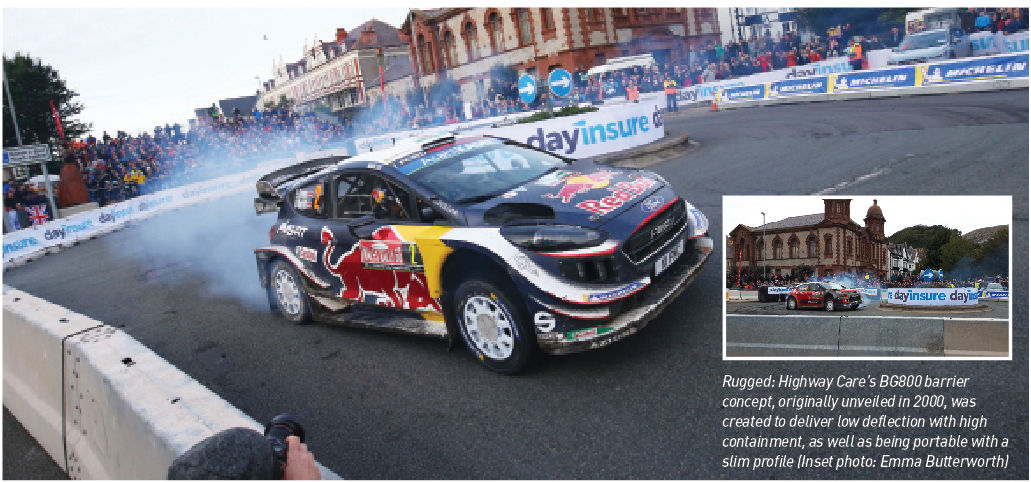 The BG800 concept, which was unveiled in 2000, was created to deliver low deflection with high containment, as well as being portable with a slim profile. Reaching N2 H2 and N2 W2 criteria, Highway Care wanted a barrier that would provide great protection for a workforce as well as motorists.
The result means it works well with any spectator event with cars, as it can help ensure there is protection against the cars spinning out of control into crowds, a spokeswoman tells Highways.
It has also been used across motorways for projects involving road works on the M20, A14, M3 and in Bournemouth.
Ben Duncker, commercial sales director at Highway Care, says: 'We were really pleased and proud to be supporting a great UK event with our product. The safety benefits of the BG800 are there for all to see and its application across the UK highway network on major roadworks projects speak for itself.
'It's fantastic for Highway Care to be able to install the product into highway schemes, as well as be able to support the safety efforts of non-highway events such as The Welsh Rally GB. We're looking forward to being involved in similar projects in the future.'
Alun Pritchard, partnership manager of International Motor Sports Ltd, says: 'Wales Rally GB decided to go ahead with the BG800 barrier after conducting thorough research into the various systems available on the market at present.
'We decided to go for this particular barrier because it provided a system which gave a softer impact, therefore protecting drivers as well as spectators. The time frame for installation and removal was achievable in the limited time we had available and the cost was reduced as the length required could fit on many less wagons than concrete alternatives.
'Also, the deflection zone that the barrier was rated to, wasn't prohibitive to our spectator locations i.e. it allowed them to stand in safe positions without being too far from the action.
'The staff at Highway Care are always professional and look at ways to solve problems rather than using them as an excuse not to do things.'
The BG800 portable steel barrier
• A temporary vehicle restraint system, offering protection to both motorists and construction workers
• Low deflection rates and stepped profile
• Proven to reduce damage to both vehicle and barrier during impact, minimising repair or replacement, because of the extremely shallow exit angle
• N2 H2 compliant
• 25-year lifecycle
• Slim profile makes it cheaper to transport and easier to install