Cycling levels in England rose by 47% on weekdays and 27% on weekends in the five months to the end of July compared with last year, and cycling groups have argued the cost of living crisis is driving the change.
Cycling UK argued there has been a noticeable rise in ridership at the same time as skyrocketing fuel prices, 'strongly suggesting' people are cycling more to save money as well as other benefits.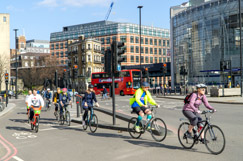 Duncan Dollimore, head of campaigns at Cycling UK, said: 'Rising fuel prices have triggered some people to think about their transport choices, switching some of their car journeys to cycling. But too many people don't feel like they have that option because they don't think our roads are safe enough to cycle on.
'The answer to that is more and better infrastructure for cycling and walking, giving more people the opportunity to do so safely rather than default to driving a short trip to work or the shops.
'With 71% of all journeys made in the UK under five miles, switching some of those to cycling is a simple way to help people make ends meet during the cost-of-living crisis, with additional health, wellbeing and environmental benefits. But to give people that choice we need local authorities to act now to make active travel a realistic option and help people keep moving.'
Official figures for cycling can be found here.
Cycling UK offers help to all those who want to drive less and cycle more of their journeys, and supports workplaces that want to encourage their staff to commute by bike through the Cycle Friendly Employer accreditation.