Civil engineering firm Jones Bros has used 'an innovative soil stabilisation method' to minimise disruption on a highways scheme in Wales.
The firm was appointed by Isle of Anglesey County Council to design and build the final phase of the Llangefni Link Road. It constructed 800 metres of new highway to complete the route, in addition to reconstructing an old roundabout and building a new one from scratch.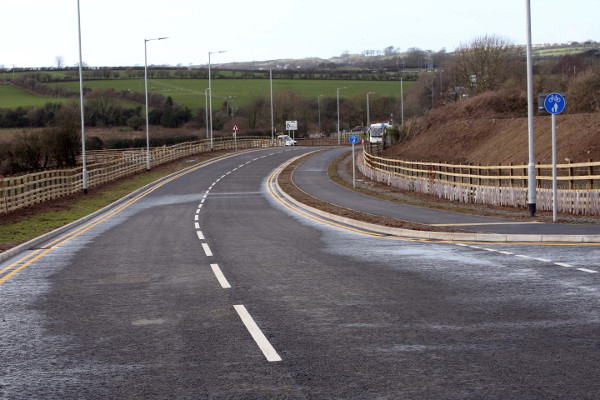 The site was based on greenfield and contained 7,000m3 of surplus soil from an industrial site build, which the contractor treated on location to avoid haulage vehicle journeys from Llangefni to landfill.
Project manager Robat Williams said: 'By stabilising on site, we drastically reduced disruption to local roads, as traffic management was only required for two months of the contract's 12-month duration.
'Being met with a significant amount of then-unusable material was a unique challenge, but our solution and approach made the project self-sufficient with all work carried out by our in-house team.'
He added: 'The link road further cements our reputation as a leading highways specialist, with our team also commencing work at the nearby Caernarfon and Bontnewydd bypass as well as on the A49 in Wigan.'
The Link Road has received funding from the Welsh Government, the Isle of Anglesey CC, Grwp Llandrillo Menai, and the Nuclear Decommissioning Authority.
It is a key part of college consortium Grwp Llandrillo Menai's masterplan to develop its Llangefni Campus into an energy and engineering training facility, as well as supporting the expansion of Bryn Cefni Business Park.
The road also aims to reduce congestion in the town and promote the Welsh Government's active travel policy through the use of shared paths for pedestrians and cyclists.
The project required 10,000m2 of asphalt, 800 metres of drainage, 2km of kerbing, and the creation of an attenuation pond to control surface water discharge.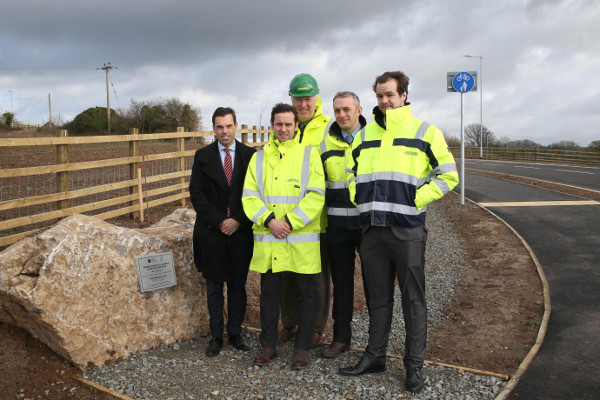 From left: Ken Skates with the Jones Bros team: Hefin Lloyd-Davies, contracts director; Huw Jones, chairman; Robat Williams; and Steffan Morgan, quantity surveyor
Ken Skates AM, minister for economy and transport and minister for North Wales, said: 'The Llangefni Link Road is a vital part of our vision of delivering better transport connectivity.'
Established in the 1950s, Jones Bros is now being run by the second and third generations of the founding family and employs more than 350 people. Major projects manager Mike Jones is the subject of a profile piece in the forthcoming March issue of Highways magazine.