London mayor Sadiq Khan has confirmed that his Ultra-Low Emission Zone (ULEZ) will be expanded up to the North and South Circular roads from autumn 2021.
The expanded ULEZ will operate in the same way as the Central London ULEZ, which begins next April and will charge vehicles that don't comply with emission standards £12.50 a day, but will cover an area 18 times larger.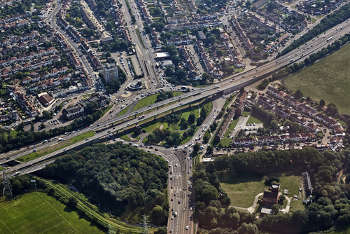 The mayor's office said approximately 100,000 cars, 35,000 vans and 3,000 lorries could be affected by the expanded zone and tighter standards on heavy vehicles.
Heavy vehicles that do not meet the Euro VI emission standards will be required to pay up to £300 from October 2020 to drive in the London-wide Low Emission Zone, although vehicles that are either Euro IV or Euro V standard will be charged £100.
City Hall pointed to recent studies by the University of Oxford, which showed that health damage from cars and vans costs £6bn annually to the NHS and society, with the bill in London totalling £65m a year.
Mr Khan said: 'I promised hard-hitting measures to tackle our shameful air pollution and today City Hall is confirming the next stage of our plans.
'Some motorists will need help switching to greener transport options, which is why City Hall are urging ministers to deliver a diesel scrappage scheme to get the dirtiest cars off our roads and offer drivers a fair deal, especially the many diesel drivers who brought vehicles thinking they were more environmentally friendly after Government advice.'
City Hall said all areas of London are expected to see reductions in pollution, including on the North and South Circular Roads and only 4% of roads in Outer London are expected to exceed legal limits in 2021.
RAC roads policy spokesman Nicholas Lyes said: 'Nobody doubts the need to clean up London's air; however the expansion of the ULEZ represents a huge move into residential areas within the North and South Circular. Residents and small businesses within this area now have just three years to become compliant with the mayor's emission standards.
'Motorists currently have no quick and easy means of knowing for certain what Euro emissions standard their car, or one they are looking to buy, meets – so it is absolutely vital that a central database is developed as quickly as possible.'