Kier Highways is inviting the industry to get involved in its first external sustainability competition – Business in Bloom.
In celebration of the start of spring, the company is inviting its supply chain partners, clients, customers and others in the industry to take part and create habitats to encourage biodiversity across sites, depots and offices.
'From now until the end of May is the optimum time to get planting. By September, your displays should have blossomed nicely,' Kier advised.
Entries for the competition will close on Friday 9 September 2022.
There are four separate categories and participants can enter more than one. These are:
Best wildflower display
Best herb garden
Best outdoor space
Tallest sunflower
Entrants will be judged on:
variety of plants on show
creative reuse of materials in planters etc.
general appearance and maintenance of your space (evidence that weeding and watering has been done regularly)
additional features added to attract pollinators
the WOW factor!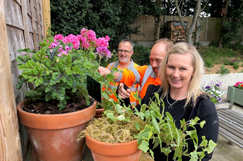 The competition is an extension of Kier's internal Depots in Bloom competition.
Senior environment and sustainability manager at Kier Highways, Matt Tompsett, said: 'We launched Depots in Bloom across Highways in 2019 and had loads of entries from across the business.
'Through the competition we saw our colleagues come together and work collaboratively to create changes to their workspace, resulting in a positive environmental and wellbeing benefit, creating steppingstone habitats for pollinators and relaxing spaces for people to take a break.
'We wanted to launch this across the industry to encourage collaboration by working towards a common goal of increasing biodiversity in local communities across the UK road network. I can't wait to see the entries.'
Business in Bloom supports the biodiversity and landscape principles found in Kier's Sustainability Strategy and One Planet Action Plan (OPAP) and aligns with its Building for a Sustainable World Framework.
Those who wish to take part can find out more and register here.