The Government will bring in an automated vehicles bill in the new parliamentary session and legislate to deal with unlicensed pedicabs, King Charles has announced in a King's Speech that also included a pledge to publish a rail reform bill in draft form.
The King told the assembled MPs and members of the House of Lords: 'My ministers will introduce new legal frameworks to support the safe commercial development of emerging industries, such as self-driving vehicles.'
He added: 'A bill will be introduced to deal with the scourge of unlicensed pedicabs in London.'
In a briefing document, No 10 said the automated vehicles bill will implement the recommendations of the review of self-driving vehicle legislation carried out by the Law Commission of England and Wales and the Scottish Law Commission, with the majority of measures applying to 'Great Britain. England and Wales.'
The RAC's head of policy, Simon Williams, said: 'While the concept of truly driverless vehicles being commonplace on our roads might still a little sci-fi to the average driver, there is no doubting the need for this bill. The technology is moving at pace and it's vital the UK isn't left behind.
'However, if we're ever to truly realise the benefits of autonomous technology we have to sort out the state of our roads once and for all. It's hard to fathom how driverless cars will be able to safely navigate our streets when so many road markings are faded, and then there's the prospect of vehicles getting needlessly damaged by the UK's pothole plague as they surely won't be programmed to avoid them.'
Max Sugarman, chief executive of Intelligent Transport Systems UK, said: 'The UK is already a world-leader in connected and autonomous vehicles, and legislation will help further support the growth of the transport technology sector, enabling the UK to develop a competitive advantage from which it can export its expertise abroad.'
However, Mr Sugarman said it was a 'missed opportunity' that the speech did not mention other measures to support the future of transport, including putting shared micro-mobility trials on a permanent footing'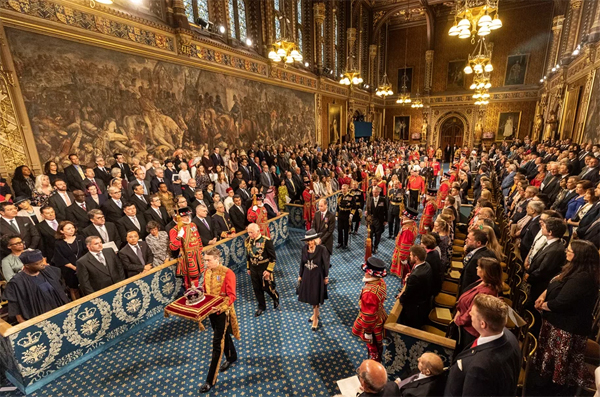 Although Westminster council has campaigned on the issue of pedicab licensing, council leader Adam Hug said: 'I am disappointed that the Government has not delivered on promises made last year to legislate on e-bikes and scooters.
'While we welcome the action on pedicabs, this is an issue which mainly affects tourists and leaves the wider problems caused by some e-bike and scooter riders unchallenged.'
In a reference to an existing pledge following the curtailment of HS2 last month, the King also said the Government 'will invest in Network North to deliver faster and more reliable journeys between, and within, the cities and towns of the North and Midlands, prioritising improving the journeys that people make most often'.
In terms of legislation, No 10 said there would also be a draft rail reform bill, adding: 'Given the scale and complexity of the changes being made to the sector, it is right that the draft Bill undergoes pre-legislative scrutiny to provide Parliamentarians and experts across industry the opportunity to review and test the legislation in draft.'
However, Norman Baker Campaign for Better Transport, a former transport minister said: 'We welcome the renewed commitment to Great British Railways as a guiding mind and arms-length body but it is not clear why this is a draft rail reform bill rather than a commitment to legislate given this has already been subject to extensive discussion and is largely non-controversial across all the political parties.'