Leeds City Council has outlined its final plans for a Clean Air Zone (CAZ) to help cut pollution in the city, which will see buses, coaches and HGVs charged £50 a day.
The council will ask central government for £40m to bring in the scheme, which will cover more than half of the city from January 2020. It said it will improve air quality both inside and outside the zone.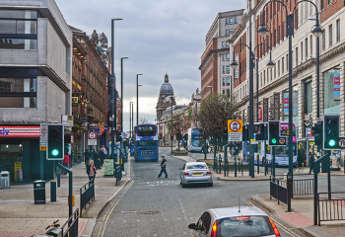 The scheme will charge 'the worst polluting' HGVs, buses, coaches, taxis and private hire vehicles (PHVs) but light goods vehicles and private vehicles would not be charged.
Changes to the scheme following a non-statutory consultation exercise include reduced charges. Non-compliant buses, coaches and HGVs will be charged £50 per day, compared to a previously proposed £100 per day. Taxis and PHVs will still be charged £12.50 per day but locally licensed drivers can pay £50 per week.
Cllr James Lewis, executive member with responsibility for sustainability and the environment, said: 'The plans we're putting forward have been carefully developed following months of consultation with thousands of residents and local businesses to ensure they are the best plans for Leeds.
'A key element of these proposals is the support we're proposing to help affected local businesses transition to cleaner vehicles which avoid charges. We believe that it is important to help local businesses in order for the zone to most successfully reduce pollution.'
The scheme will be monitored via a network of purpose-built cameras. The council said it will request £13m (based on current best estimates) from the Government's £255m Implementation Fund 'to cover costs associated with the infrastructure and operation of the zone'.
It will also request £27m from the Government's £220m Clean Air Fund to support local businesses to upgrade or retrofit affected vehicles through grants and interest-free loans.
A report to councillors states: 'Significant concern has been raised by those impacted about the financial impact on their businesses because in many cases, they will need to replace their vehicles earlier than they would have planned and customers driving non-compliant vehicles may also choose to take their business elsewhere.'
The proposals come after the Government instructed the council to draw up a business case to tackle air pollution in Leeds after identifying parts of the city as being likely to fail legal air quality levels by 2020.
They will be discussed at a meeting of the council's executive board next week before being submitted to the Government for approval.
An interactive map showing the proposed zone boundary is available online.