Leeds City Council is to take forward plans to upgrade all street lights in the city after a consultation, but has yet to say whether it intends to extend a night-time switch off.
Proposals to convert approximately 86,000 street lights to LED over a three-year period starting in January 2019 are to be put to the council's executive board in September.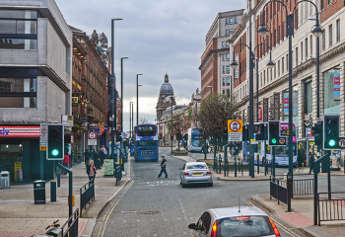 A business case review into the future of street lighting in the city found that the cost of upgrading to LED is now 'significantly more attractive' than previously.
The consultation document estimates that the upfront cost of buying and installing the lanterns would be around £25m but that the move could save as much as £2.5m a year of the roughly £4m annually the council currently spends on electricity for street lights, meaning that the cost could be recouped in around 10 years.
Leeds City Council executive member for regeneration, transport and planning Councillor Richard Lewis said: 'Having listened to what people told us and also our own review of the financial aspects, there is now a clear positive case for upgrading all street lights in the city to more energy-efficient LEDs.
'It is important to stress this is only a recommendation at this stage, the proposal will be fully considered and debated by the executive board in September.'
The consultation, carried out from November 2017 to January 2018 got than 2,000 responses. More than 70% of respondents supported the upgrade, the council said.
The consultation also included a proposal to extend part-night operation, where street lights are turned off between midnight and 5.30 am. A spokesperson for the council said the results 'are still being analysed' but that a decision on the proposal would also be put to the executive board in September.