Campaigners have launched a legal challenge to the Government's £27bn Road Investment Strategy 2020-25 (RIS2), claiming that the plan breaches climate change and air quality laws.
Having secured cash for legal costs through an ongoing crowdfunding campaign, the Transport Action Network (TAN) said its lawyers had now filed the case with the High Court and is awaiting a response from the Department for Transport (DfT).
It described the case as 'the biggest legal challenge to road-building in British history', adding that it comes as the chancellor is considering an infrastructure boost in next month's emergency budget.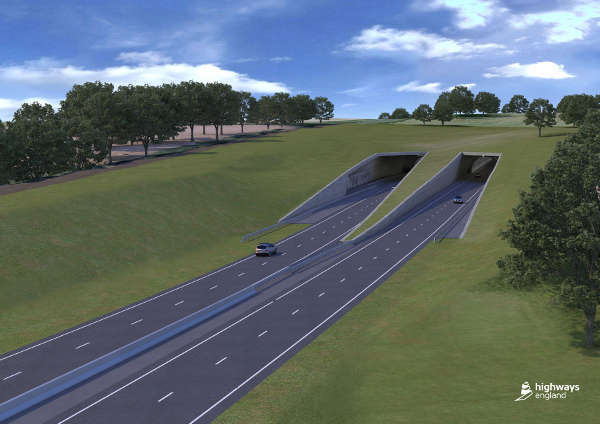 The £2bn Stonehenge tunnel (design above) is a flagship project in RIS2
The group claimed that the DfT 'has ignored the fact that building roads and increased traffic would scupper its chances of meeting binding climate change and air pollution targets'.
It also argued that although the department is saying it will map out the action needed in wider plans such as a Transport Decarbonisation Plan, 'it has been making similar promises for years to little effect'.
Shaun Spiers, executive director of Green Alliance, said: 'The Government's massive road building programme made no sense before COVID-19 and now it looks positively eccentric.
'The roads programme will stoke climate change and worsen air pollution, without cutting congestion. Let's invest in broadband and sustainable transport instead, and redouble our efforts to cut carbon emissions and restore the natural world.'
TAN pointed out that while air pollution has breached legal limits for over a decade greenhouse gas emissions from transport have barely changed since 1990.
The group said that 'hitting reset' on the DfT's roads plan would release billions to tackle a £16bn bridge and pothole backlog on local roads and free up funding for alternatives such as cycleways for e-bikes or reopening railways.
The move follows a successful legal challenge to the Government's support for a third runway at Heathrow, which was also made on climate change grounds.
The DfT declined to comment.