Siemens Mobility has installed air quality sensors in the Thames Valley to create pollution models and understand how traffic management can limit exposure.
Part of the Association of Directors of Environment, Economy, Planning and Transport's (ADEPT) ongoing live trials of new technology, the Thames Valley scheme will see smart communication devices integrated with established infrastructure to provide a multi-modal view of real-time traffic movement.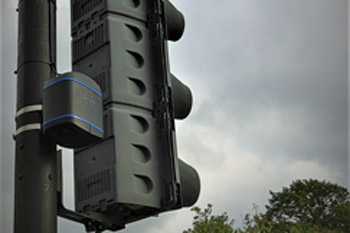 This will include air quality data from the new EarthSense ZephyrS sensors (pictured connected to a traffic signal) installed by Siemens, which will measure a range of pollutants, as well as temperature and humidity, in real-time.
Data from the sensors will be fed back to the EarthSense MyAir data web app and Siemens' Stratos traffic management applications to help create a public health exposure model around highways and transport.
Wilke Reints, managing director of Siemens Mobility's Intelligent Traffic Systems business in the UK, said: 'By fully integrating our ZephyrS air quality sensor with other traffic data, authorities are able to make meaningful and timely interventions through our Stratos traffic management system, implementing strategies based on reliable pollution data and prevailing air quality levels.'
Giles Perkins, programme director said: 'The use of small sensors is an exciting development and helps highway operators understand air quality impacts in a much more local way than ever before. Understanding traffic impacts on air quality helps achieve improved quality of life in local communities and this technology will help the acceleration of this technology.'
The first group of six ZephyrS sensors have been installed by Siemens Mobility in Thatcham, Reading and Wokingham.
To determine the best locations for the next group, Siemens Mobility and EarthSense are participating in further project workshops with EarthSense supporting modelling using its MappAir high resolution air quality mapping application.
The ADEPT SMART Places Live Labs programme is a two-year £22.9m project funded by the Department for Transport and supported by project partners SNC-Lavalin's Atkins business, EY, Kier, O2, Ringway and WSP. Local authorities are working on eight projects to introduce digital innovation across smart mobility, transport, highways maintenance, data, energy and communications.