A replacement road for the A83 at Rest and Be Thankful must be 'agreed, planned, contracted, constructed and opened by May 2026 at the latest', local politicians have said.
The leader of Argyll and Bute Council, Robin Currie, and the area's MSP, Michael Russell, have written to transport secretary Michael Matheson, 'reiterating the need for key actions to be progressed swiftly'.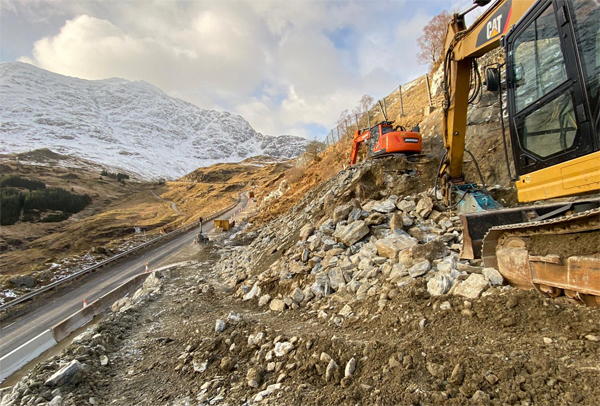 The letter was sent in response to the publication of the first phase of the Strategic Transport Projects Review earlier this month.
The Review pledged 'improved resilience of the trunk road network at the A83 Rest and Be Thankful', although it largely re-iterated Scottish Government announcements made last year
The route is repeatedly closed by landslides or the threat of landslides and is currently operating only during daylight hours, although a diversion route can be used at night.
Mr Russell, who is also the Scottish Government's external affairs secretary, said: 'The report itself states the case that the A83 is one of only two trunk roads connecting Argyll and Bute to the central belt, that it is absolutely critical for the movement of goods and people and that it plays a vital part in all aspects of life in Argyll and Bute, from economy to education and employment opportunities.
'The pace of the action must match the urgency of the situation and that is why we are calling for the new route to be put in place in the life of the next parliament and no later.'
Cllr Currie said: 'Everyone with Argyll and Bute's interests at heart is agreed that urgent action is needed to ensure our connections to and from the rest of the country are reliable, sustainable and open for business at all times.
'With this joint approach we are calling for three key actions and clear timescales to be put in place, which will address this situation once and for all. As we focus on Argyll and Bute's recovery it is absolutely vital to stay connected.'
The two local leaders called for:
Planning, construction and opening of the replacement route within the life of the next parliament and at the very latest before May 2026;
Continuation (and increase if necessary) the mitigation measures currently underway at the site;
More frequent meetings of the A83 Taskforce to focus on driving forward delivery of the replacement route.
#A83 #RestAndBeThankful: A83 opening hours extended by a further 30 mins to 8am - 5.15pm each day due to longer daylight hours. OMR will continue to be in use overnight as a safety precaution. Read more here ??https://t.co/RkccJLjuI2 pic.twitter.com/ys9YDxVz80

— BEAR NW Trunk Roads (@NWTrunkRoads) February 16, 2021