Two London councils have restricted nine streets to ultra low emission vehicles (ULEVs) during peak times.
The restrictions have been brought in by Hackney and Islington councils as a way of addressing pollution in the congested City Fringe area close to Old Street station.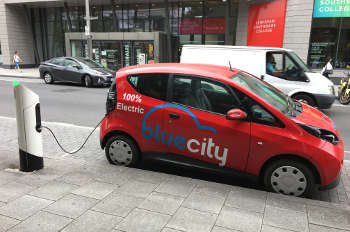 The ULEV-only streets, which the councils said are the first of their kind in the capital, came into force on Monday (3 September).
With limited exceptions, petrol and diesel vehicles and all other vehicles emitting more than 75g/km of CO2 will be banned from the nine streets between 7 and 10am and 4 and 7pm from Monday to Friday. Vehicles permitted to use the streets during this time include all 100% electric and hydrogen vehicles and some of the least polluting hybrid vehicles.
Cllr Feryal Demirci, deputy mayor of Hackney, said: 'Failing to act on poor air quality, which causes nearly 10,000 premature deaths across London every year, is not an option, and that's why we're being bolder than ever in our efforts to tackle it.
'We're thrilled to be launching our Ultra Low Emissions Streets - the first of their kind in the UK - which will reclaim the streets from polluting petrol and diesel vehicles, and improve the area for thousands of people every day.'
Residents and businesses with addresses and existing parking permits or vehicles with associated off-street parking in the ULEV-only streets will be exempt from the restrictions.
Non-exempt vehicles will face a Penalty Charge Notice if they enter the streets during peak hours.
The scheme is being funded from the Mayor of London's Air Quality Fund, and the Office for Low Emission Vehicles' Go Ultra Low City Scheme.
The restrictions cover Rivington Street, Charlotte Road, Cowper Street, Singer Street, Tabernacle Street, Paul Street, Ravey Street, Willow Street and Blackall Street.