Disruption caused by COVID-19 provides a 'breathing space' for large road schemes to be reconsidered and alternatives put in place, the South East Wales Transport Commission has argued in its 'Emerging Conclusions' report.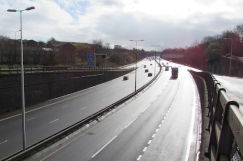 The commission, chaired by Lord Burns, was formed last year to recommend alternative measures after the Welsh Government cancelled the controversial M4 Relief Road to bypass the two-lane bottleneck through northern Newport.
The report states: 'Many transport decisions are made at "habit disruption" points, such as getting a new job or moving home. COVID-19 is a unique and universal habit disruption event, which can be used to demonstrate the case for alternative ways of working and travelling.'
It proposes a 'Network of Alternatives', where various transport improvements combine into a single system. Its final report will consider options for a road-user charging mechanism to moderate M4 demand and encourage take-up of alternatives, but not before suitable alternatives are in place.
At a press briefing, commission officials estimated that alternative infrastructure, such as new railway stations, could be delivered in five to 10 years, and bus and active travel innovations much sooner.
The commission's work was well underway before the COVID-19 pandemic, which forced the commission to revisit its ideas. Its final report is due by the end of the year.
The early report has an entire chapter about COVID-19's impacts.
'Our view is that the changes resulting from COVID-19 do not fundamentally alter the long-term need for additional transport options,' says the report.
'But the changes to working patterns and the impact on the economy provide a period of breathing space. Given our emerging conclusions, this is valuable as it will take a number of years to put in place good alternatives to the motorway, especially for rail.'
The commission expects that additional car traffic generated by social distancing, particularly on public transport, will be outweighed by the increase in people working from home, alleviating peak M4 congestion at Newport.
'We also note there is a window of opportunity to capitalise on the behavioural disruption caused by the epidemic, in particular on home working and active travel.'