A member of the Welsh Assembly has raised safety concerns after it emerged that parts of a busy 10-mile section of the M4 could lack their usual lighting this winter.
Last spring, 120 lamp columns on the motorway near Port Talbot were reduced to stubs over concerns that they could collapse.
However, the affected section between junctions 38 and 43 has dense traffic, with only two lanes per carriageway compared to the M4's usual three.
At Port Talbot the elevated M4 (pictured) is squeezed between steep hills and dense housing.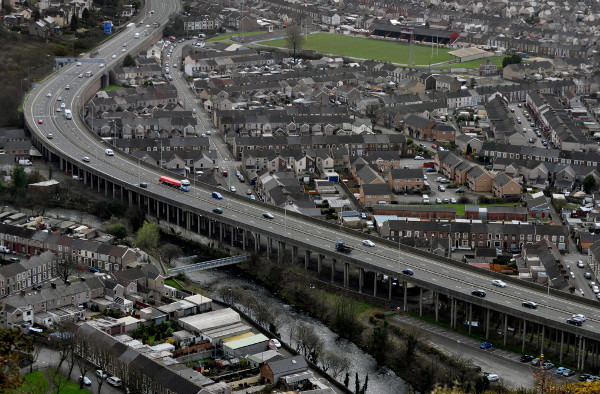 Deputy transport minister Lee Waters told the Welsh Assembly: 'The columns were cut down in April after one of them collapsed. The other structures were found to have failures that made them a safety risk. They were, therefore, removed.
'A report was then commissioned to look at what options were available to us and found that in the 20 years since the lights have been in place the standards have changed and, in fact, by modern standards, it wouldn't have been built like that in the first place.'
The Welsh Government's experts thought the section of road was 'overlit' and are considering options. The decarbonisation agenda could result in provision of low-energy lighting.
'It will take some three months for the lighting columns to be ordered, so it's unlikely to happen this financial year. We are considering options in the meantime, particularly floodlighting, but that would need generators. But we are hoping to have some recommendations we can act on in the coming months,' said Mr Waters, Labour AM for Llanelli.
Mr Waters was responding to fellow Labour AM David Rees, who said darkness hours were lengthening and asked when the area which should be lit would be lit.
'It should be safer for drivers, particularly in an area that is criticised very much for the traffic congestion,' he said. 'In the darkness … you can't see the stumps because it's that dark.'