A £4.6m refurbishment of a bridge spanning the M5 is set to be completed a month ahead of schedule.
On Tuesday morning National Highways said principal contractor MJ Church has removed the scaffolding, waterproofed and resurfaced the Bamfurlong Lane Bridge between junctions 10 and 11, ahead of the re-opening for traffic and pedestrians later that evening.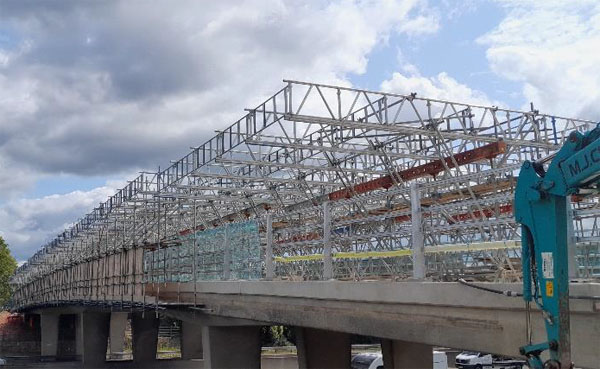 Picture: Credit National Highways: scaffolding surrounds the M5 Bamfurlong Lane bridge during the refurbishment work
The bridge has been closed since work the scheme started in November 2022 and work was scheduled to be completed in mid-December.
A 'complex refurbishment' involved concrete repairs to the bridge decks, replacement of bridge bearings, removal and reconstruction of parapet beams and safety fencing, waterproofing and resurfacing, together with 'extensive' inspection of the post tensioning cables.
Heather Lang, National Highways' south west head of scheme delivery, said: 'We need to be especially diligent in any work involving our structures, the work is particularly complex, and we've carried out a lot of work on the bridges in this area over the last three years.
'A lot of our structures in the South West are now over 50 years old and we have an ongoing programme to fully renew our bridges.'
National Highways has also been refurbishing the Roman Villa and Pitmill bridges at junction 11A of the M5.
The exit slip road at the Brockworth interchange has been closed since early September to enable structural and concrete repairs, expansion joint replacement, waterproofing and resurfacing.
National Highways said refurbishment work is on schedule and following further work on the bridge deck and the installation of waterproofing, kerbs and verges, the slip road is scheduled to be re-opened to traffic ahead of the Christmas holidays.
Work on the two bridges follows a sequence of work to restore the 50-year-old structures around Cheltenham and Gloucester, including the bridges supporting the Golden Valley gyratory at Junction 11 and the Brookfield Road and Staverton bridges.