The timetable and viability of Highways England's plans for a tunnel for the A303 are at risk, according to an influential committee of MPs.
The Commons Public Accounts Committee has published a report on Transport infrastructure in the South West, in which MPs also called for ministers to provide more clarity on how they will support a transport strategy for the region and on plans to make rail links into Devon and Cornwall more resilient.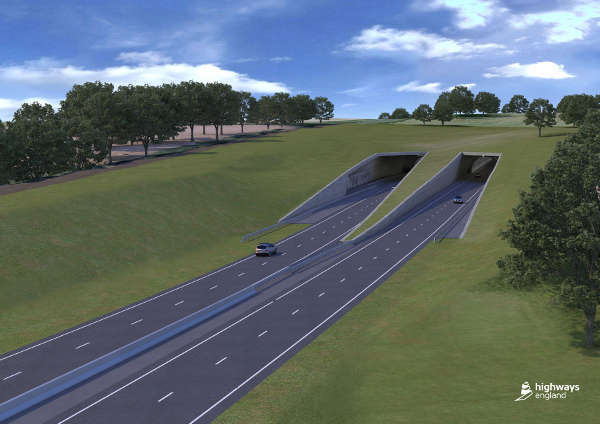 The report notes that decisions on how to fund the Stonehenge project are on the critical path for the planned opening date of 2026 'and are now at the mercy of the much-awaited Spending Review'.
MPs warned that any further delay over funding decisions will jeopardise the opening date.
As previously reported on Highways, Highways England chief executive Jim O'Sullivan told the committee at a hearing that, following the reversal of a government decision that the tunnel should be privately financed, Highways England needs confirmation of public funding by the end of the year.
The report points out that the project, which is expected to cost around £1.7bn (excluding VAT), is a key part of the Government's plans for the A303 road corridor, and the Department for Transport (DfT) and Highways England expect it to deliver significant heritage benefits as well as easing road congestion. But it says that those bodies 'do not yet have a clear idea of what improvements they are expecting to see at the World Heritage Site and the surrounding area'.
MPs also noted that the DfT has only committed to starting three out eight possible projects along the route, echoing concerns previously reported on Transport Network that traffic congestion is likely to be eased at some points but pushed to other sections of the road.
The committee's deputy chair, Sir Geoffrey Clifton-Brown, said the committee 'knows from bitter experience that Transport do not have a good record in delivering major projects punctually'.
He said: 'Government plans to open the Stonehenge tunnel by 2026 remain in doubt until a clear decision is made on how to fund the £1.7bn scheme. To meet the proposed timetable a funding decision is needed by the end of this year.
'There is a pressing need for the Department for Transport and Highways England to set out exactly what benefits visitors and local people near the site can expect to see as a result of the scheme.
He added: 'The tunnel is just one part of major plans to the upgrade the A303 corridor to support economic growth in the South West. However, the Government's piecemeal approach makes it hard to show the programme is value for money.
'Unless there is a co-ordinated approach to all eight of the proposed projects there is a risk that traffic jams will be merely shunted along the road.'