MPs are to launch a new inquiry into 'the benefits and safety of Smart Motorways'.
The inquiry by the Transport Select Committee will also consider their impact on reducing congestion on busy sections of motorway and other roads in the strategic road network.
The committee made reference to recent inquests into deaths on all lane running (ALR) 'smart motorway' schemes, where the hard shoulder is permanently converted to a live lane.
In one case a coroner concluded that smart motorways 'present an ongoing risk of future deaths' while another referred Highways England to the Crown Prosecution Service to consider corporate manslaughter charges.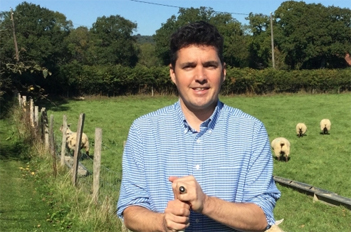 MPs also cited recent media coverage, which reported 14 fatalities on smart motorways in 2019, 11 deaths in 2018 and five the year before.
Committee chair Huw Merriman MP (pictured) said: 'The Department for Transport says Smart Motorways help us cope with a 23% rise in traffic since 2000, helping congestion.
'The Department's own Stocktake report points to lower fatal casualty rates for smart motorways without a permanent hard shoulder than on motorways with a hard shoulder. The serious casualty rate is slightly higher.
'This message isn't reaching the public, whose confidence in smart motorways has been dented by increasing fatalities on these roads. Road safety charities are also expressing concerns. Will enhanced safety measures help? Will the public accept them following an awareness campaign? Or should there be a rethink of government policy?
'There are genuine worries about this element of the motorway network and we want to investigate how we got to this point.'
AA president Edmund King said: 'Coroners, and indeed police and crime commissioners, have voiced serious safety concerns with smart motorways, which makes this inquiry very timely.
'For more than a decade the AA has campaigned to improve the safety of smart motorways. Tragically, too many people have died on these roads in the interim.
'Hopefully this inquiry will concentrate minds to stress the urgency of safety improvements.'
In June 2016, a Transport Select Committee inquiry concluded that it did not support the nationwide roll out of ALR as safety risks had not been fully addressed.
Anti smart motorway campaigner Claire Mercer, whose husband was killed on an ALR motorway, said the tone of the latest inquiry has raised concern as it 'expressed a bias' in favour of them.
'Any focus on smart motorways is good but I can't help worrying that this is going to be more busywork with a toothless result. The sole solution to any of this is to return the hard shoulder. It's the only thing that will solve the problem. It's a lot easier to turn these things off than it was to turn them on.'
The committee is inviting written evidence on the safety of smart motorways and public confidence in their use as well as their impact upon congestion. In particular:
the benefits of smart motorways, for instance to reduce congestion on busy sections of motorway, and how necessary they are;
the safety of smart motorways, the adequacy of safety measures in place and how safety could be improved;
whether All Lane Running is the most suitable type of smart motorway to roll out or if there are better alternatives;
public confidence in using smart motorways and how this could be improved;
the impact of smart motorways on the usage and safety of other roads in the strategic road network;
the effectiveness of Highways England's delivery of the smart motorways programme, the impact of construction works, and the costs of implementation.
The closing date for submissions is Friday 9 April.