A woman whose husband was killed on a smart motorway has called for a parliamentary inquiry to consider the findings of a newspaper investigation, which alleged serious failings in safety equipment.
Claire Mercer's husband, Jason Mercer, and Alexandru Murgreanu were killed in 2019 when they were hit by a lorry shortly after a minor collision on an all lane running (ALR) section of the M1 near Sheffield.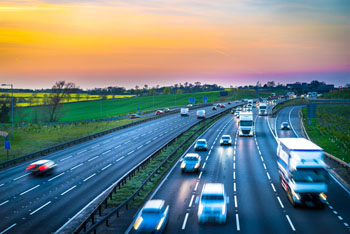 Her lawyers Irwin Mitchell have written to transport secretary Grant Shapps calling on him to halt the rollout of ALR schemes or face legal action.
Her legal team has now written to the Transport Select Committee, which is conducting an inquiry into smart motorways, to ask it to consider the findings of the Daily Mail's undercover investigation.
After its reporter spent six weeks under cover at the South Mimms Regional Operations Centre in Hertfordshire, which covers sections of smart motorways on the M25, M1 and M4, the paper alleged that more than one in ten safety cameras were either broken, misted up or facing the wrong way and that control room staff were unable to check reports of broken-down vehicles.
As reported by Highways, the government-owned company has provided the Department for Transport (DfT) with an 'initial update' on its investigation but both organisations have refused to disclose the early findings.
Associate solicitor Helen Smith said: 'Claire and her family are understandably concerned and shocked at the significant difference between what the committee has been told in oral evidence and the accounts recently published.
'Claire is anxious for the Transport Committee's report to represent a comprehensive review of all of the relevant evidence regarding ALR motorways. We have now written to the Committee calling on it to consider carefully the most recently published media reports, against the evidence provided by Mr Harris and Baroness Vere to the Committee.'
Labour's shadow transport secretary Jim McMahon, said: 'The shocking findings uncovered by the Mail put into sharp focus the need for swift action from the Government, before more lives are lost on smart motorways. People who have to drive on these roads every day will be very concerned and it's right that the minister return to the select committee to set out exactly what the government plans to do.
'In the meantime, they must reinstate the hard shoulder while proper scrutiny of the failings exposed in the system is carried out.'