For some years I've been on the lookout, (somewhat intermittently), for a cabriolet electric car that I can afford.
Why?
Well, my mother was an early, early adopter of non-fossil fuel cars, buying a Prius when they first came out and moving through Gee Whizz and a number of others to a Leaf. So I had been set an example of just how great they are for town. Plus, driving around in a petrol car was a serious blot on my pretensions to be green.
So what stopped me?
I've always had soft tops from my first 2CV on, so that was a must. However car makers had not, apparently, thought of combining the two things. Plus I live in a third floor flat and you can't charge from a household mains socket even if I could sling a series of daisy-chained extension leads out of my window - not to mention park close enough outside the house.
So what's changed?
Well, on-street charging points are appearing through a slow but gradual process and the vehicle range is improving to such a degree that I would not have to re-charge more than once a week.
I've also admitted to myself that I'm probably not going to be going for any 2,000 mile road trips across Europe on a whim.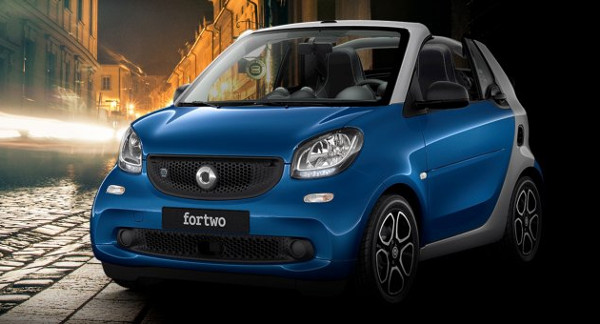 On my latest, periodic internet search of 'electric cabriolet' up popped a picture of an electric smart car with a soft top. Bingo! At this point I have to also to admit that I do like a car with a style of its own, not just another tin box on wheels.
Realistically, going for the test drive was a complete sham. I knew I was going to get one, I just needed to know the cost. I can't imagine what would have had to be wrong with the thing for me not to go for it.
As an ex-Vespa rider, the size thing holds no terrors for me and I find the idea of this little transport box on wheels, made exactly for my dog and me to zip around London in, makes me smile from my very core.
For those who say electric cars have taken the romance out of driving, sure there is the utility of being able to park nose to the pavement, of not paying congestion charge or road tax, or of paying for only 10 minutes of four hours parking, but most importantly for me this car honestly makes me feel young and whimsical.
Romance is not just about an open road, its about an open mind.
Sophie Service is group facilities and development director at the Hemming Group, publishers of Highways.